The King's Man is a prequel to the first two Kingsman movies, and takes place in the 1900s. Amidst a backdrop of war, international turmoil, and enormous societal shifts, we discover the origin of the highly secretive and sartorially superior spy agency. This movie has particular poignancy, as It was in 1919 that H. Huntsman & Sons first took residency at our current home of 11 Savile Row, having moved from its original location on New Bond Street. 
Recreating an authentic window treatment from this period was crucial in the legitimacy of the latest film, but it wasn't just Huntsman that got a period makeover for filming. The entirety of Savile Row was closed off as the production team meticulously took us back in time to London in the 1900s.
The latest window display encompasses that same vintage feel. Whereas now shop windows are used to create bright, vibrant eye-catching displays, and a glimpse inside the shop, traditionally a curtain was hung from the window, ensuring the privacy of the clientele inside. An illustrious English Duke or European royalty would not, after all, have appreciated the public congregating outside as they chose their tweeds!

Even the curtain in this window re-creation has bespoke relevance and is created in a stunning tartan cloth from Dugdale Mill. 
The three outfits displayed on traditional bust-form mannequins are also authentic to the period. The first is a full White Tie ensemble, very similar to the one worn by The Duke Of Oxford in the film. It is the most formal of all attire, saved for only the most prestigious events, or in the presence of royalty.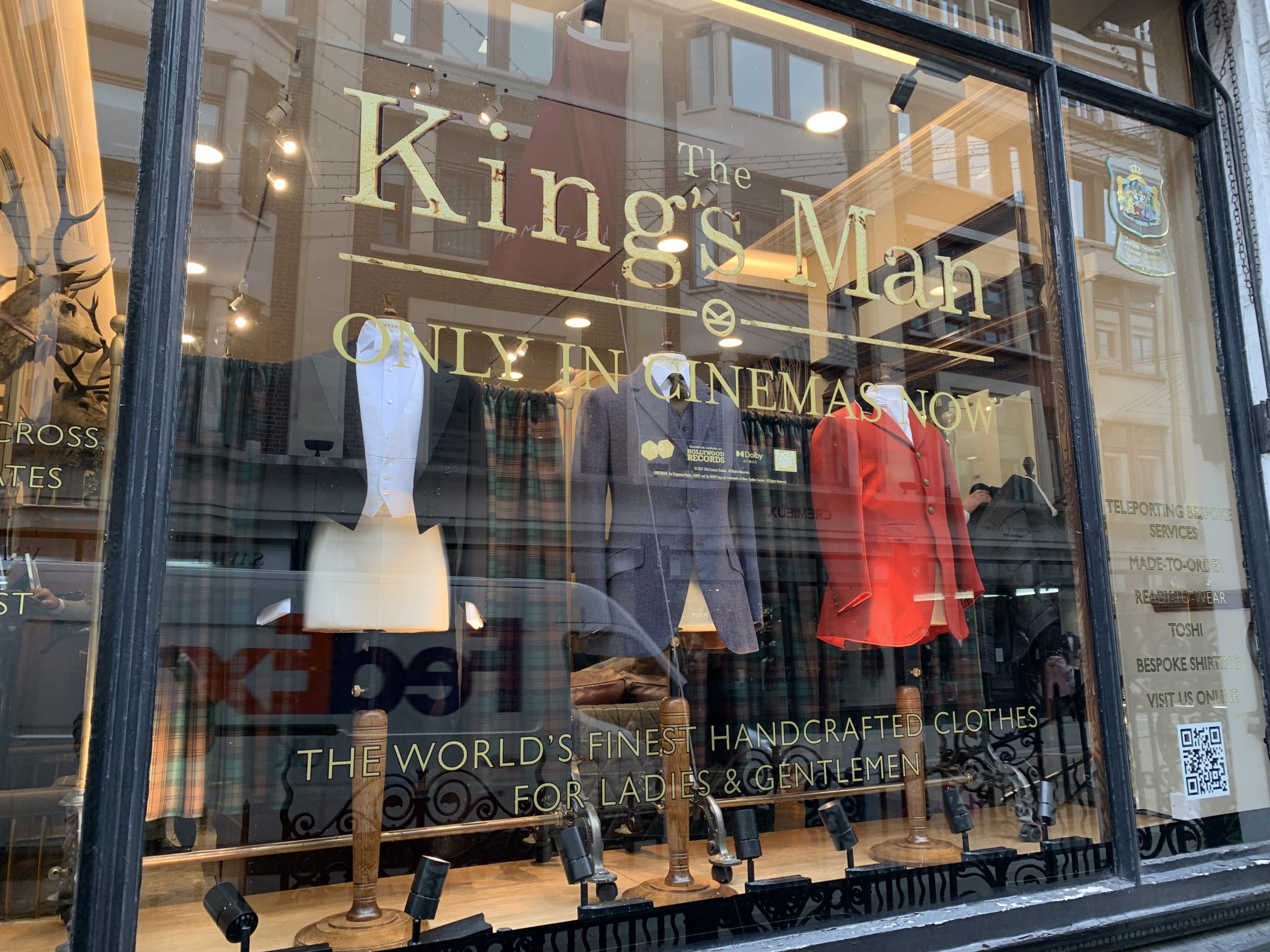 Next, is by all accounts a far more contemporary style suit, for the 1900s at least. This three-piece' lounge suit' represents the style of informal new dressing adopted by young, fashionable gentlemen of the period. The style featured in the window is directly from the movie- worn by Harris in The King's Man. It represents perfectly the juxtaposition of tradition and innovation of the period, as formality meets a change in fashion, as embodied by The Duke Of Oxford and the young Harris.
 

Finally,  rightfully Huntsman's namesake, a classic red Hunt Coat, the perfect embodiment of what Huntsman did best in 1900. Traditionally, each tailor on Savile Row would be known for a certain style of dress. One might furnish you with your service uniform and military garments, another, your civilian suits, and Huntsman was known for equestrian wear and breeches.
This window display is a celebration not only of the latest film, but also Huntsman's own heritage, and very much how bespoke tailoring has transformed over a century. It's safe to say that although styles may change, the enduring quality of bespoke tailoring is here to stay.
  Book Your Tickets To Watch The King's Man   
  Learn More About Huntsman & The King's Man