1919 A year of espionage, secret societies and sartorial excellence
We now have to wait until September to watch Matthew Vaughn's The King's Man,  the action-packed prequel to the first two Kingsman movies. As, the trailer reveals, the secret society of Kingsman was established under the guise of a traditional British tailor, in the mid-1900s. 
Huntsman and sons took residency at 11 Savile Row in 1919, turning the page on the original Bond Street location for a fresh start after The Great War in the world's most famous sartorial destination. 
Since then, our august fitting rooms have been graced by numerous personalities of the British espionage world, dressing the likes of Ian and Peter Fleming, Peter Ustinov, Desmond Llewellyn ( The original Q ) Fitzroy Mclean, who was Fleming's original inspiration for James Bond, Patrick Leigh Fermor, without forgetting Kingsman alumni  Mark Strong in Body of Lies and Colin Firth in Tinker, Tailor, Soldier, Spy, both wearing Huntsman for their roles.
To celebrate our secret service heritage, and our arrival on Savile Row, we have designed an exclusive selection of luxury accessories and gifts inspired by Huntsman in 1919. 
1919 is also the year that the British Military Intelligence Organisation established The Government Code and Cypher School, the now well-known GCHQ. Its overt function was and is still to protect British Government communications, with a secret mission to decrypt messages sent by foreign enemies. 
Morse code, the quintessential encrypted language patented in 1837, is now adorning ties and pocket squares of our 1919 Morse Code collection. To the unsuspecting eye, the Morse Code stitch on ties, pocket squares, and socks resembles a regular horizontal stripe design, but take a closer look and you'll discover it actually reads:
H U N T S M A N 1 9 1 9. 
It's a flourish few will suspect, and you'll be surprised as to whom can decipher it!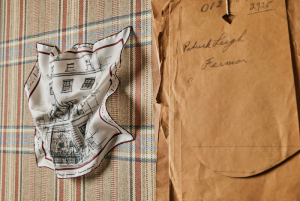 From the collection our traditional 8-panel caps and cherished teddy bears are available in Huntsman Exclusive Centenary house cloth; the Springfield Stripe. The Springfield Stripe is one of a collection of cloths created in 2019 to celebrate our Centenary at 11 Savile Row.
The stripe is available in true navy for our caps and charcoal for our 1919 bear and is subtle and sophisticated, worthy of an undercover agent's wardrobe. Available in limited quantities, this cloth is also available for bespoke commissions and is great for suiting and separate jackets and trousers.
And for those sophisticated finishing touches; embroidered 1919 box cloth braces, and sterling silver cufflinks bare the 1919 insignia. 
The Huntsman 1919 collection offers a timeless style for the Huntsman and Huntswoman of today. It is a collection designed to complement both our Ready To Wear and Bespoke accessories, making for great additions to your existing wardrobe!  For your next bespoke order, why not try brace buttons on your trousers and lose your belt for a pair of box-cloth braces or a traditional style eight-panel cap instead of a beanie?