Huntsman - Gazette March 2022
Huntsman Gazette
The


Huntsman Gazette
Published: 11 March 2022 - 4th Edition - Exclusive
Welcome to the March Issue Of The Huntsman Gazette, our first instalment for 2022. Spring has certainly startled to settle in on Savile Row, and with it, the promise of warmer weather and of course, the start of the Social Season!
After two years of disruption and distancing, many of us are looking forward to getting back to those pastimes we hold so dear. But may we suggest allowing ample time to ensure your wardrobe is looking its best.

If you're heading to Royal Ascot in June, now is the perfect time to take out your morning wear and give it a once over. Whether it's a simple press and clean, some restorative alterations or maybe you're in the market for a new outfit, Huntsman is here to help!
The King's Man
Bespoke excellence in this highly anticipated release!
Finally, with much anticipation and after months of waiting, The King's Man hit U.K. cinemas on December 26th. If you haven't already seen it, you're sure to discover plenty of Huntsman bespoke tailoring. With period wardrobes for the picture's leading men, Ralph Finenes and Harris Dickinson. Eagle-eyed viewers may also spy another familiar face- Once again, our very own leading man, Campbell Carey makes a cameo to critical acclaim!
To celebrate the launch we recreated the infamous window display featured in the film which, as a prequel to the previous two instalments, is set in the 1900s. It wasn't just Huntsman that enjoyed a vintage revival for filming, indeed all of Savile Row was transported back in time.
Discover more about Huntsman and Kingsman here.
And be sure to check out the instagram interview series featuring Campbell Carey in conversation with The King's Man costume designer Michelle Clapton.
THE OUTFIT
Huntsman hits the big screen once more!
The King's Man isn't the only foray into film that has Huntsman over the course of the last year. The Outfit, is a new crime thriller set to hit cinemas later this month. It stars Mark Rylance, as Leonard Burling, an English tailor, trained on Savile Row, until a personal tragedy displaces him to Chicago,operating a small tailor shop in a rough part of town where he makes beautiful clothes for the only people around who can afford them: vicious mobsters
For the picture Huntsman acted not only as bespoke tailor, but Campbell Carey also closely consulted with the team to ensure accuracy and authenticity. In preparation for his role, Mark spent several weeks with Campbell learning everything that goes into making a bespoke suit. From striking and cutting, to the intricacies of hand sewing, Mark was a devotee to the process, and could often be found standing alongside Campbell at his board, or making tea for the tailors in the basement.
The Outfit is in cinemas from March 18th. Look out for Campbell in conversation with Mark Rylance and Costume Designer Sophie O'Neill about his experiences both on and off set.
Ready For Royal Ascot?
Place Your Bespoke Orders
It's a thrill to be returning to the races once again! For those of you enjoying the Cheltenham Festival later this month will surely also have Royal Ascot marked in the diary. It is a day of such excitement, and one which requires no less than sartorial excellence.
This year, we invite you as we get Royal Ascot ready, with appointments available now to refresh and rejuvenate your morning wear! What's more, Huntsman will be sharing our top tips and tricks for making the most of your time at Ascot.
We've also curated a special collection of our favourite cloths in The Huntsman Cloth Library for you to sample. Get inspired here! Perhaps it's time to choose a new waistcoat, or cut a dash in an all grey morning suit.
Speak to our client managers about getting your morning wear in order.
Introducing Spring Summer 2022
The Art Of Dressing Well
For our latest Ready-To-Wear collection Huntsman Creative Director, Campbell Carey uses colour, texture and classic tailoring to create a versatile wardrobe of lightweight linen and cotton, in elegant jackets, trousers and suiting. Whether you're traveling, or at home, you'll discover garments that elevate your warm-weather wardrobe, in signature Huntsman styles.
Shop The Collection…
For our Spring Summer campaign, we collaborated with fellow Savile Row bastion, Hauser & Wirth using their impressive gallery spaces to showcase the new collection. Set against a backdrop of contemporary abstract portraits from the Ideals of the Unfound Truth exhibition by George Condo, classic tailoring styles from the new Huntsman are brilliantly showcased, creating a series of striking portraits.
Discover The Campaign…
The Huntsman Window Goes Digital
Entering 2022 in moving images!
Stop by the window at 11 Savile Row and you're sure to spot something different- moving images! We are putting ourselves firmly in the 21st Century with video screens flanking our window display in the side windows.
A tailor's shop window has always been a tool with which to gain notoriety. From the newly appointed warrants of European royalty etched on the glass, and the intimacy of a half cloth curtain erected to disguise a dashing duke visiting within- today our windows are far more transparent, designed to welcome you inside.
In the latest technological update, these screens can provide what even the most elegantly executed mannequin cannot. A glimpse at how your bespoke suit is made, the way the cloth moves, feels and wears, and the craftsmanship of our team of Cutters and Tailors, in action!
News From W57th Street
Trunk Shows & more from our home away from home
The team in New York is on the road again, with our upcoming U.S trunk shows. If you haven't already, make an appointment to see us in your city.
Washington D.C.
21st – 22nd March 2022
The Four Seasons Hotel
Boston
24th – 25th March 2022
The Newbury Hotel
1 Newbury Street
Boston, MA 02116
---
This year we're excited to also welcome Huntsman Cutter Finn Munkenbeck on his debut trunk shows in Washington D.C and Boston. London born and trained Finn has worked alongside Ralph Fitzgerald in New York since 2017.
You can learn more about Finn here.
Huntsman W57TH at the Metropolitan Club
It was our pleasure to spend an evening with members of the Metropolitan Club in New York, when Ed and Ralph visited the club to deliver a talk on the art and craft of bespoke tailoring to their esteemed guests. With much engaging conversation, it was a thoroughly enjoyable evening.
---
A Special Broadcast From Foulkes & Sons
Many of you will already be avid viewers of Foulkes & Sons, the show that has become cult viewing for Cigar enthusiasts. Each week Nick Foulkes and his son Max share elevated discussion as they sample some of the world's finest and rarest cigars. From lockdown broadcasts in the 'ancestral hovel' this joyful and witty show is now broadcast with special guests from the most prestigious locations around europe, and it was with great pride that we welcomed Nick and Max in to 11 Savile Row for a special broadcast, sharing an evening with Campbell Carey. It is the charming anecdotes and witty repertoire between father & son that makes Foulkes and Sons such addictive viewing.
Watch: An evening in the Huntsman Club
Huntsman & Morehouse College
A new scholarship programme
Meet the Morehouse Scholars! These outstanding young gentlemen are the first recipients of the Huntsman Savile Row Honours Student Scholarship. This Scholarship, in collaboration with Morehouse College in Atlanta, awards each student with a bespoke Huntsman suit and a $10,000 bursary as they prepare for life after graduation. We wholeheartedly believe in the transformative power of the suit, and this new scholarship programme, awarded to the leading students of Morehouse College in Atlanta, Georgia is designed to This Scholarship awards each student with a bespoke Huntsman suit and a $10,000 bursary as they prepare for life after graduation. We documented the students as they began their bespoke journey and prepared for life after Morehouse.
Krishan Joins The Huntsman Team
For all your sartorial requirements
We'd like to welcome Krishan to the team at 11 Savile Row. Krishan joins Huntsman as a Senior Client Manager with almost a decade of experience within bespoke tailoring. A keen sportsman, Krish is a masterful shot with both rifle and shotgun as well as an enthusiastic polo player. When it comes to the sartorial intricacies of etiquette dressing, he is our resident expert, so if you're looking for tasteful tweeds to spend a long weekend at the peg, or hope to cut a dash in the Royal Enclosure, he's here to help! Meet Krishan here
Krishan is also our new Head Of The Middle East, with a return of Trunk Show visits. Krishan will travel regularly, and by request, alongside Huntsman Cutter Max Whittaker.
Celebrating A Vintage Revival!
Rejuvenating retro riding wear with Magdelena
Few hunt coats would make it to 61 seasons, and very few would withstand the notorious clay that sits beneath Warwickshire hunting country for that number of years. But this one, a Huntsman piece from 1961, tells a different story; a story of meticulous craftsmanship and inherent sustainability.
Learn more about this story in the journal.
Do you have a vintage Huntsman garment in need of some care? Perhaps you'd like to refresh some beloved tailoring that has seen better days? Speak to our team to make an appointment to discover what we can do for you!
Meet The Client
A new feature letting you get to know your fellow Huntsmen and Huntswomen a little better
For 2022 Huntsman will be profiling clients from around the world. Sharing the stories of individuals, who are as unique as our bespoke tailoring, these style profiles will allow you to get to know your fellow Huntsmen and Huntswoman. This month we debut the feature with Renee Cafaro, U.S. Editor of SLiNK Magazine and CEO of RCA Public Label. Renee loves playing with colour and composition in her bespoke wardrobe, bringing her own signature style to classic Huntsman tweeds as well as designing her own family tweed with the Huntsman Tweed Experience.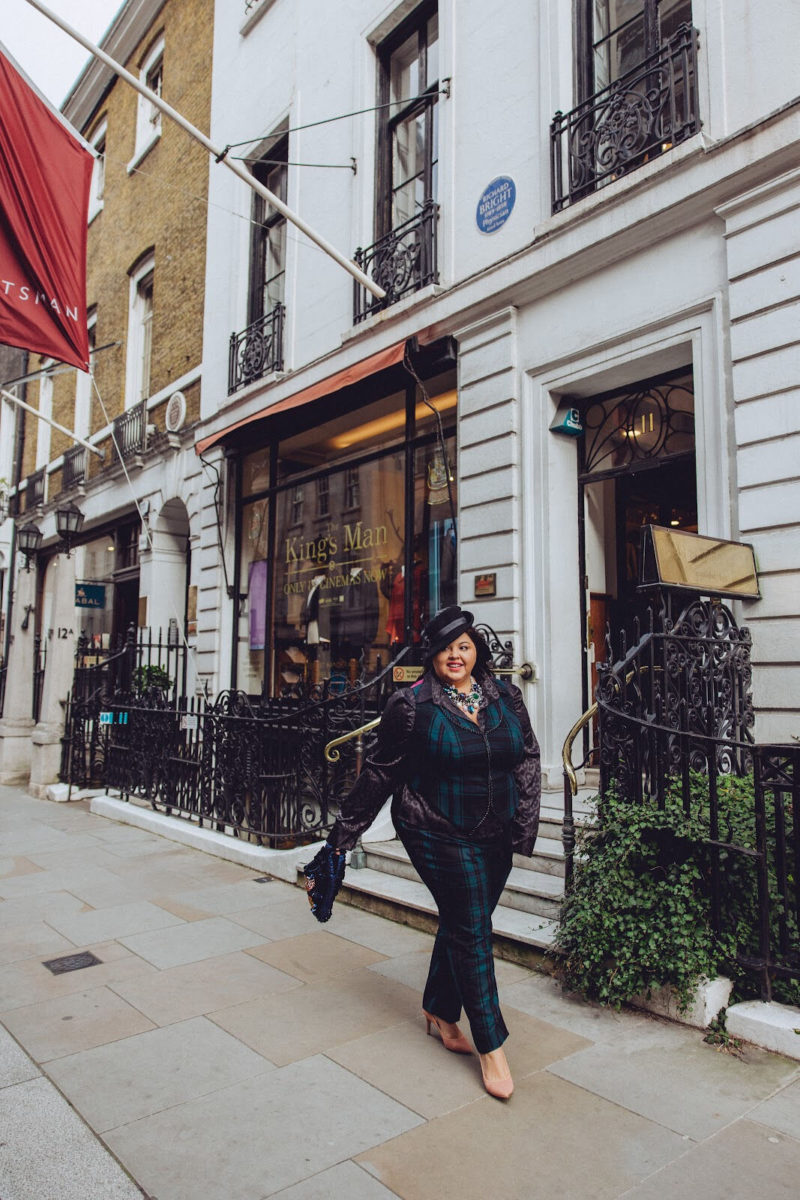 Read more about Renee in the Huntsman Journal now…