When To Wear Morning Wear
Morning wear is essentially formal day wear, reserved for some of the most formal occasions. Second only to White Tie, the beauty of morning wear is in the strict protocol of each component, and to successfully execute morning wear is an art.
Despite its name, morning dress may be worn to afternoon social events that begin before five o'clock in the afternoon but not to events beginning after six o'clock in the evening.
Expect To Impress
If you receive an invitation that dictates a morning suit is de rigor, you'll want to be sure that your suit is fit to pass the sartorial scrutiny of your fellow attendees. Whether you are joining a wedding party, preparing for Royal Ascot, or even in anticipation of Derby Day, you'll find that a well-cut morning suit will become a useful addition to your formal wardrobe.
Huntsman is here to accommodate your every bespoke requirement, taking the fuss and fret out of your morning dress, and leaving you to enjoy the occasion in style.
Your Morning Coat

The modern morning coat is single-breasted and has peaked lapels. It is fastened with a single button. A classic black feather weave will bring subtlety and depth to your coat.

There is stringent rules for your morning coat, this is not a garment that should be embellished or elaborated on. Stick with classic design details to ensure your coat endures for years to come.

Choosing Your Suit

Morning suits traditionally come in two designs; a traditional black feather weave coat paired with cashmere stripe trousers or an all-grey three-piece suit.

If you opt for a traditional black feather weave morning suit, a double or single-breasted waistcoat of a contrasting colour such as pales, light blues, or grey to bring a splash of colour to your dress.

The full grey suit is arguably more contemporary and appropriate for less formal engagements. Favoured by Hollywood elite such as Gregory Peck, you'll cut a smart profile if you opt for a grey three piece morning suit.
Trousers
You can opt for either a cashmere stripe or houndstooth trousers to wear with your morning coat.
Cashmere stripe trousers are formal trousers traditionally worn with your black morning coat. (Cashmere has nothing to do with the cloth, it really refers to the name of the stripe.)
Cashmere stripe comes in different widths and gradients; whilst there are no set rules for which cashmere stripe you choose, you may want to consider a darker, more somber stripe for serious occasions, and a lighter stripe for social events.
For a contemporary alternative, you might also consider small houndstooth trousers. You'll find that houndstooth trousers make a striking addition to your morning wear wardrobe.
Your Waistcoat
Soft tones and a pastel palette can bring a splash of colour to your ensemble.
You will choose from a barathea or linen waistcoat in traditional plain dove grey, buff, lemon or powder blue, to bring a welcome splash of colour to proceedings. You may also wish to add dress slips (detachable Marcella cotton edging) for added flair.
The size of one's girth, not tradition, dictates whether you wear a single or double-breasted waistcoat. In either case, a single colour is preferable to brocades or silk prints.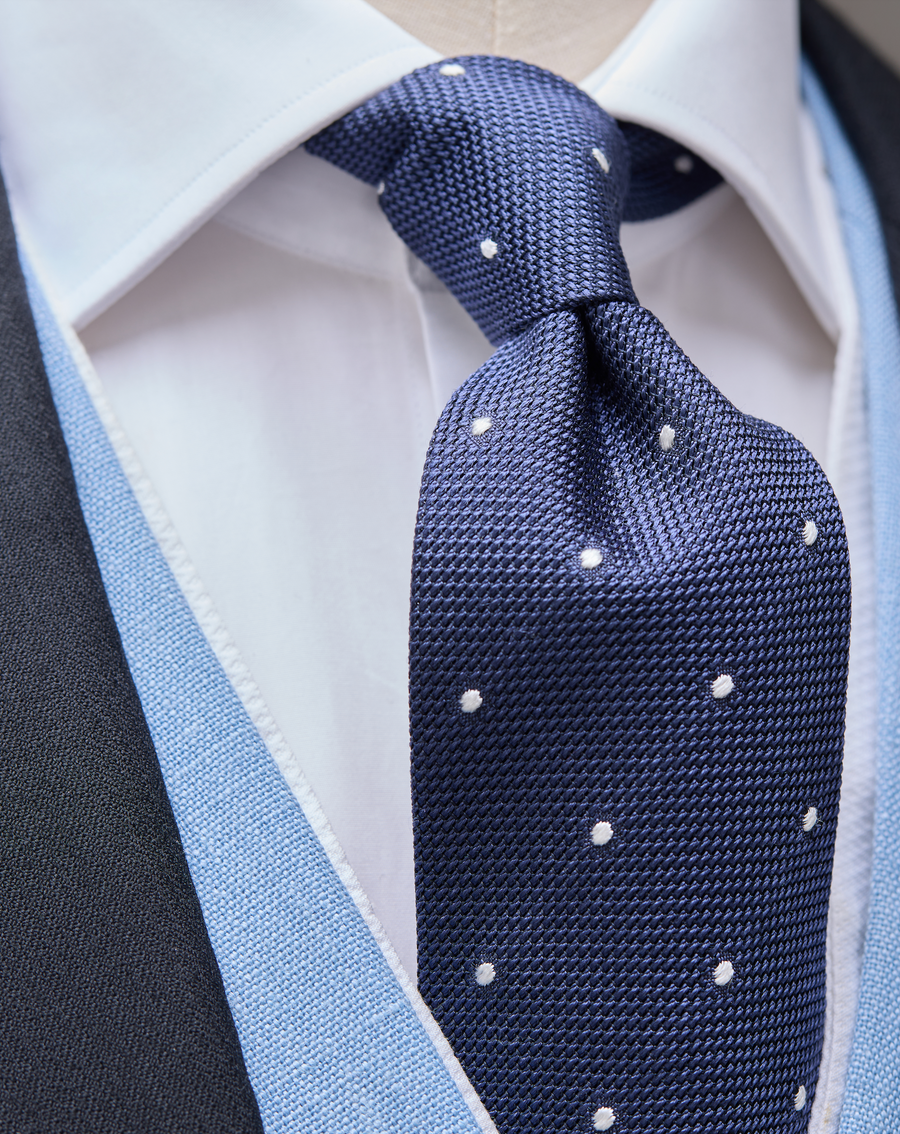 Neckwear
When it comes to choosing neckwear, Huntsman always advises a classic, tightly knotted necktie. Whist the cravat may echo Edwardian fashions, a neck tie that looks sharp is less fussy and flamboyant than a billow of silk at the neck. Choose classic silk or slub-silk tie. You're sure to find success with a solid grenadine tie in a bright, but conservative colour.
Don't Forget...

Morning wear is not complete without a top hat. You can choose a grey felted, or a black silk top hat.
If you're heading to Royal Ascot, anything more than a family ring, fob watch, and chain or tie stud is superfluous.
A robust knee-length grey or black ribbed sock is the correct form for morning dress and many men follow the late Duke of Devonshire's lead with yellow socks that look surprisingly zesty! 
Finish your morning suit with the correct footwear; always choose a highly polished black cap-toed Oxford shoe.