Welcome to The Huntsman Club, where each experience is crafted exclusively for you.
What Is The Huntsman Club?
An exclusive clubroom situated on the first floor at 11 Savile Row, where the world of bespoke tailoring converges with the luxury of entertaining. Reserved solely for our esteemed bespoke 1849 clients, subject to booking, this opulent space promises an unforgettable experience for those seeking moments of refined elegance in true Huntsman style.
Club House Style
Step into the club, and you'll be greeted by our beautiful dark mahogany champagne & whisky bar, a splendid replica of an inviting East London pub, but with the savoir-faire of a traditional club. The rich, warm tones of the wood compliment our impressive double-height walls, papered in the iconic Huntsman Tweed, and classic French doors open to reveal a unique perspective on Savile Row. 
 As you relax in this immersive space, time seems to slow down, allowing you to savour every moment. The ambience fosters a sense of calm and contentment, ideal for unwinding, surrounded by the finest bespoke craftsmanship and bespoke service at your fingertips.
Celebrate In Style
The Huntsman Club isn't merely a space for leisurely bespoke appointments; it is a haven for celebration and camaraderie! Huntsman plays host to all manner of bespoke events; from intimate cocktail receptions, and lavish launch parties, to unforgettable bespoke experiences, our clubroom is ready to facilitate your every need.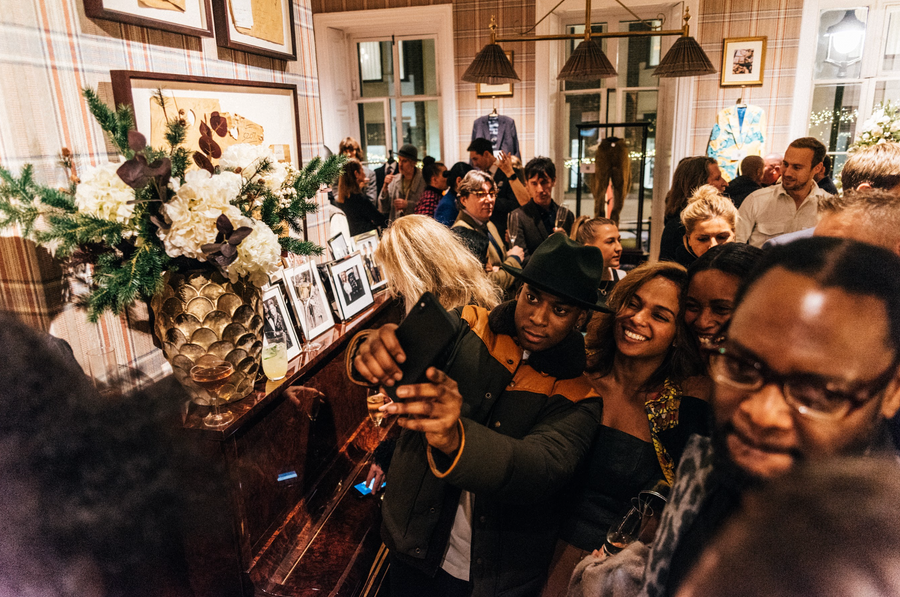 Dining At The Club
Equipped with a compact catering kitchen adjacent, we partner with renowned private chefs and local restaurants to deliver crafting culinary delights that perfectly complement your experience. For breakfasts, luncheon and dinners, the Club can comfortably seat 25 guests.
Rules Of Engagement
Access to the Huntsman Club is reserved solely for Huntsman 1849 Bespoke clients, by prior appointment only. Please speak to your Client Manager ahead of your visit to confirm availability.
The Huntsman Club, will on occasion, be open to non-Huntsman clients. These events are strictly by invitation only.

Guests wishing to host private events in the Huntsman Club are responsible for their own catering, staff and logistics.
Speak To Us