The Huntsman Team
THE CLIENT MANAGERS
MICHAEL CHENG
Store Manager
Michael is British-born Chinese of Hong Kong & Malaysian descent. Michael grew up in London and spent many years with Ermenegildo Zegna as a Made to Measure Specialist, before bringing his contemporary approach to 11 Savile Row.
KRISHAN CHUDASAMA
Senior Client Manager 
Upon completing his mathematics degree it was his love of beautifully tailored clothing that drew Krishan to Savile Row 8 years ago. A keen sportsman, Krish is a masterful shot with both rifle and shotgun as well as an enthusiastic polo player. When it comes to the sartorial intricacies of etiquette dressing, he is our resident expert, so if you're looking for tasteful tweeds to spend a long weekend at the peg, or hope to cut a dash in the Royal Enclosure, he's here to help!
DANIEL MULLADY
Senior Client Manager
Liverpool born Daniel is passionate about bespoke tailoring, football, and Ibiza in equal measure. A keen runner, if you can't find him in 11 Savile Row, he's sure to be sprinting around the park.
DAVID GOGGINS
Senior Client Manager
"Bespoke tailoring is unique because it is a brilliant combination of geometry, mathematics, sculpture and art. There is a wonderful point in the process when the cutters and tailors forget about the paper measurements and start working according to the client's body shape, truly showcasing the art of bespoke tailoring." 
Meet David Goggins, a Senior Client Manager who has been a part of Huntsman for over 6 years. Along with having different face-to-face meetings with clients, David always is ready to help clients looking to commission their first bespoke garment. His passion for this industry and fashion showcases through his great knowledge of bespoke tailoring.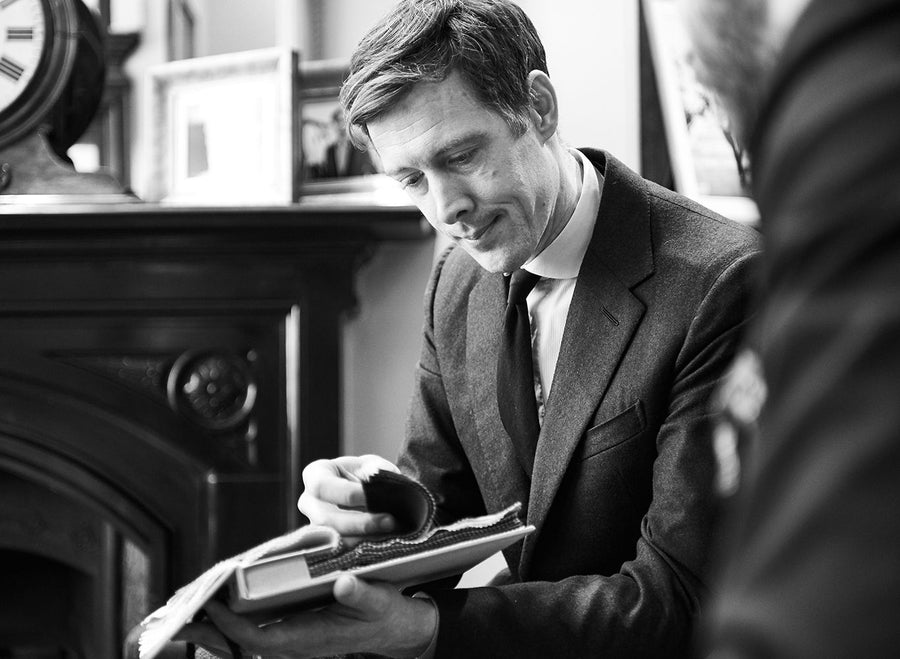 ED TURCO
USA Director
Ed joined us in 2017, after successfully running Loro Piana's bespoke business in the US. He's the guy to have on your quiz team, with his encyclopedic knowledge of facts and memory for names.
TAJ PHULL
Managing Director 
Taj heads up Huntsman retail at 11 Savile Row. With an extensive career in bespoke tailoring, Taj knows just about everybody on Savile Row. An avid sneaker fan, Taj is just as passionate about shoes as he is about suits.