The World's Finest Handcrafted Clothes
At Huntsman, we pride ourselves on our rich heritage and reputation as one of the finest and most long-standing yet often innovative bespoke houses on Savile Row.
Today, our extraordinary story serves as a reminder of the integrity, excellence and attention to quality that has defined the Huntsman suit for generations; standards which we strive to maintain in our tailoring today.
"H. Huntsman & Sons, Gaiter and Breeches Maker"
Founded in 1849, the first Huntsman shop was established at No. 126 New Bond Street when our founder Henry Huntsman purchased a "Gaiter and Breeches Maker" formed forty years prior in 1809. As a bespoke tailors which incorporated an equestrian wear workshop, the house quickly gained a reputation for dressing the hunting and riding aristocracy of Europe for much of the nineteenth century, a specialism which became the very foundations of the house. Huntsman continues to make equestrian and sporting tailoring today and Henry Huntsman's very own breeches are still displayed in the company's Savile Row shop.
The Royal First Warrant
In 1886, the company earned its first Royal Warrant as Leather Breeches Maker to HRH the Prince of Wales (later Edward VII). This was swiftly followed by that of Queen Victoria's second son HRH Prince Albert, Duke of Saxe Coburg Gotha in 1876 and Queen Victoria herself in 1888. The company had by this point established itself as the premier destination for riding and country attire, a reputation which was retained throughout the twentieth century, during the Golden Era of Hollywood; photographs of Clark Gable and David Niven dressed in our riding breeches remain in the company's archives today. The Duke of Windsor began to favour Huntsman's riding attire at the advent of the 1920s and soon spread the word amongst much of his social circle. In his wake, orders were received from Adele Astaire, Lord Louis Mountbatten, Viscount Churchill, Rudolph Valentino and even one of the Duke's own mistresses whose name we will still not reveal.
Not all of our creations during the first half of the twentieth century reveal such light-hearted stories however. Huntsman was a key military tailor to British army officers during both the First and Second World Wars, and tragically, several ledger books remain in the company archives which list Huntsman dressed officers, as well as their unfortunate fates in the margins. In 2017 the house created a dedicated front of house display of ceramic poppies, in recognition of the Armistice commemorating the 133 Huntsman customers who died during WWI between 1914-1917.
"Incorporating Carpenter & Packer"
Between the wars, the 1930s saw Huntsman pass from its namesake family into the care of Mr Robert Packer. A brilliant manager, Packer's influence saw the firm evolve from an equestrian and sporting tailor to a bespoke fashion house, setting the company firmly upon the path that it follows today. Quite apart from the wealth of significant clients he brought in, including Cecil Beaton, Marlene Dietrich, Douglas Fairbanks Jr., Winston Churchill and Bing Crosby, to name but a few, he also revolutionised the way in which the house's workshop operated. In an age when it was common to outsource work to other tailors, Packer insisted that all Huntsman garments be made entirely in-house, to maintain consistency and superior quality.
The Fantastic Mr. Hammick
Come the 1950s, Hammick's glamorous aesthetic and talent as a craftsman ensured that Huntsman established itself as the undisputed destination tailor for Hollywood's leading lights. Our ledger books record orders from stars such as Clark Gable, Rex Harrison, Lawrence Olivier, Paul Newman, Dirk Bogarde, Katharine Hepburn and Gregory Peck, not to mention the clothes the house made for artists and fashion designers ranging from Sir Hardy Amies to Hubert de Givenchy and Bill Blass, to Lucien Freud; relationships with many of whom were to endure decades and influence the sartorial choices of others. The impact of the Golden Age of cinema, a heightened appetite for hitting the right sartorial notes and the development of new fabrics in the 1960s meant that under the continued guidance of Hammick, the company employed its largest ever workforce, counting over 130 tailors and cutters at work on its premises. Such an expansion is testimony to Huntsman's uncompromising attitude; a bespoke tailors capable of producing work of the highest standard, entirely in house, for the most discerning and ambitious of individuals.
Ivor Novello
Elizabeth Taylor
Bing Crosby
Bette Davis
Rudolf Valentino
Grace Kelly
Gregory Peck
A Winning Team
Ready-to-wear clothing was added to Huntsman's portfolio in the 1960s already, by no less than our legendary head cutter Colin Hammick, followed by the introduction of our made-to-measure tailoring service, allowing the company to meet the requirements of clients with different yet utmost requirements, dressing no less than the 1966 England World Cup football team. These services are still offered to our customers today, with guidance on our current collections provided by Creative Director and Head Cutter, Campbell Carey. With over 20 years of experience in luxury bespoke tailoring, as Head Cutter, Carey continues our long tradition of superior bespoke cutting, and is responsible for ensuring that the house's ready-to-wear incorporates an authentic sense of Huntsman's bespoke signature, as well as ensuring that our bespoke department furthers its focus on quality and attention to craft.
The World's Best Dressed Man
Indeed, the late 1960s and 1970s witnessed Huntsman rank very highly in the fashion stakes too. The world's leading textile houses, including ICI relied on our company to create garments from its latest synthetics, with even Elizabeth Taylor joining in on the fun with an order for yellow nylon capri pants. Players from the winning 1966 England Football squad wore Huntsman as part of its ready to wear promotion in 1967 and Hammick became a regular on the International menswear circuit, capping off his superior standing within the industry and fashion elite by winning Tailor and Cutter's prestigious Best Dressed Man of Year award in 1971.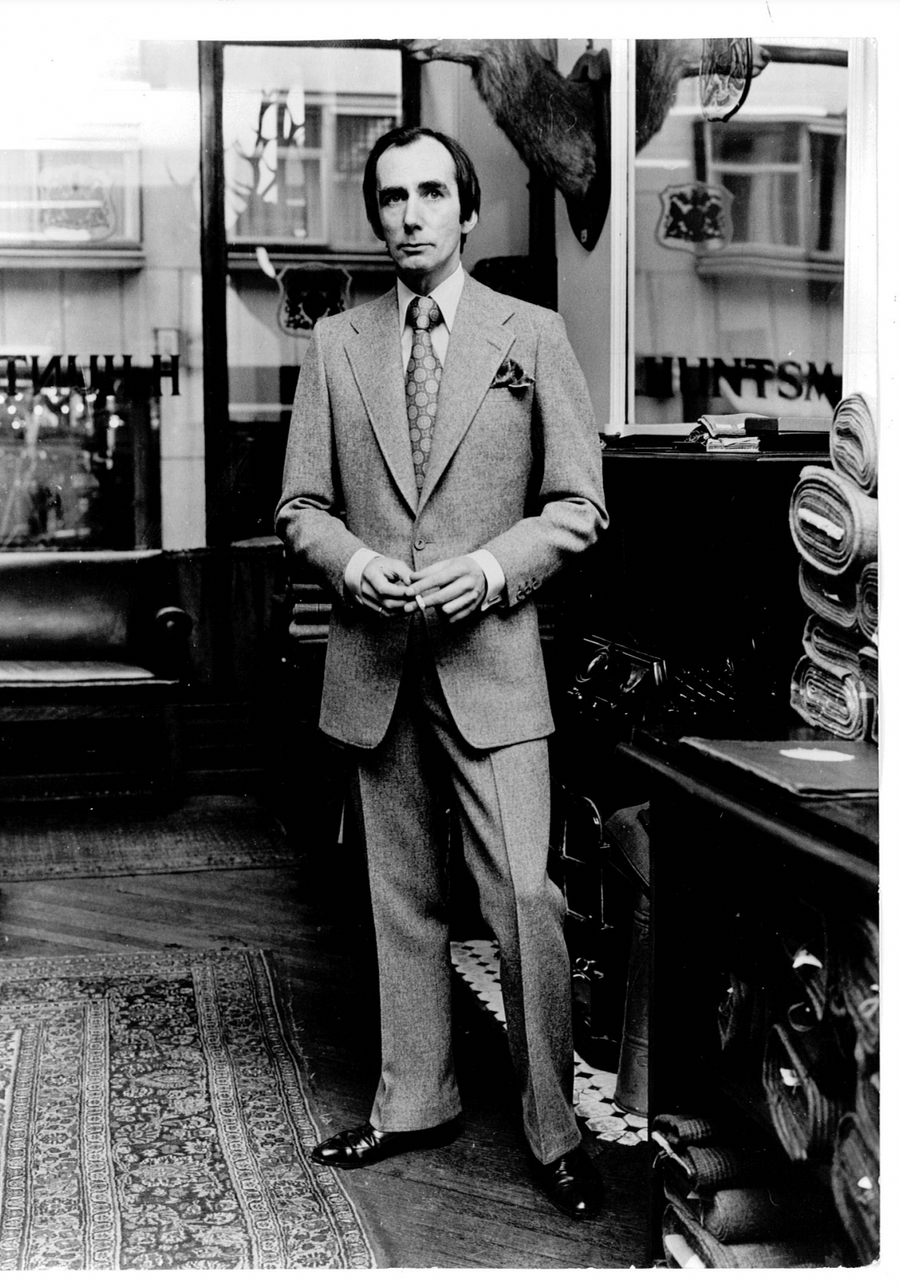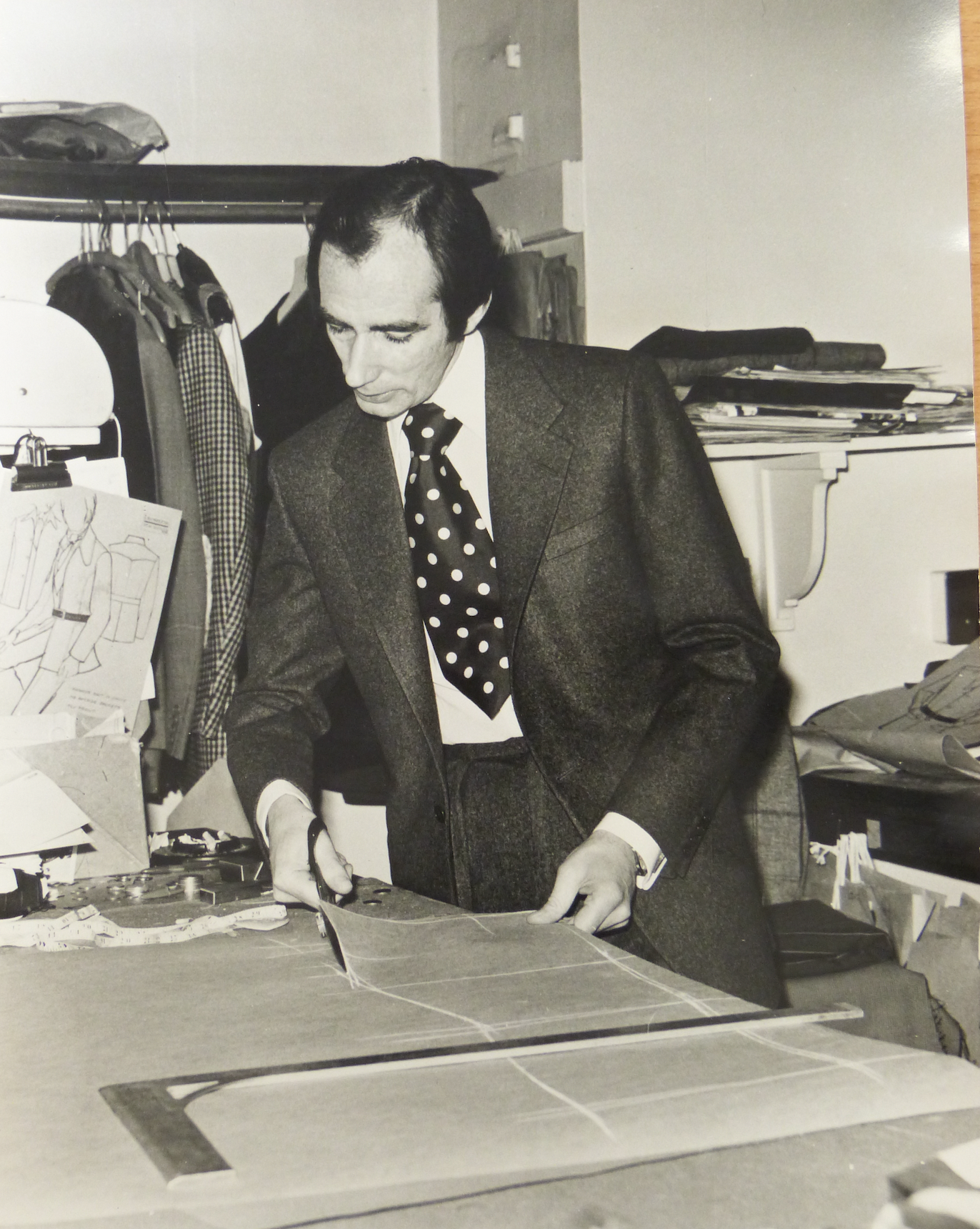 A Home Away From Home
In 2017 the company opened its first premises in America, the first Savile Row house to take , a pied-a-terre on 57th Street in New York, a base from which we can better serve our valued American clients. Huntsman appointed industry stalwart Edward Turco as U.S. Director, and under his contious tenure, Huntsman on W57th continues to flourish, complimented by our quarterly trunk show service, that travels throughout major american cities.
Huntsman Today & Tomorrow
Huntsman is owned by investor and bespoke enthusiast Pierre Lagrange and once more fields the largest in-house cutting team on Savile Row – a testimony to the commitment we make to create the finest suit possible entirely in-house. Carey directs the company's creative output and leads our cutting team together with Head Cutter Dario Carnera, both of whom take great pride in continuing to refine Huntsman's house style, and in exceeding the expectations of our customers wherever possible.
In 2020 Taj Pull was appointed Managing Director of Huntsman. Upon his appointment, Taj has introduced fresh and dynamic change to the iconic Savile Row house. Innovation is at the forefront of Taj's ethos, and under his tenure the business has benefitted from the implementation of new technology and practices, including a plethora of ways of delivering the bespoke experience to the consumer at home. 'Huntsman At Home' includes Teleporting Bespoke Services and made to order offerings.
The Heart Of Huntsman Is Bespoke
Today, Huntsman is proudly contemporary; we regard innovation and revolution, with respect to tradition, as the cornerstone of our business; in doing so, safeguard the practices of authentic craftsmanship for future generations. But the heart of Huntsman is bespoke. Our methods have remained unchanged since the founding of the house over 170 years ago. An emphasis on cloth, cut and construction has garnered a reputation for garments of unparalleled quality and longevity. Our focus is to stay true to the elevated quality of our bespoke clothing, as part of the ultimate bespoke lifestyle.