---
Huntsman is proud to dress some of the most sartorially discerning ladies and gentlemen from around the world.
This month we sat down with Huntsman client Renee Cafaro and asked her five Proustian-inspired questions to learn more about their bespoke profile.
---
Photographs by Photos by Kaye Ford (@fordtography)
| About Renee |
Renee Cafaro (@reneecafaro) is a writer, designer, body image activist and philanthropist that lives in NYC. Cafaro has served as the US Editor for British plus-size fashion magazine SLiNK since 2016, prior to which her fashion writing was a side project to her high-ranking career in New York government. As the pandemic hit in 2020, she saw a way to solve both the sudden furlough of most of the fashion industry and the desperate need for PPE, she hired many small businesses and freelancers to make masks and hospital gowns to distribute to the NYC hospital systems. Out of that project and her desire to help save the Garment District, came a collaboration to finally bring Renee's shelved patent-pending designs to fruition while in quarantine. Renee Cafaro Atelier and its ready-to-wear subsidiary RCA Public Label launching in 2021 (@rcapubliclabel).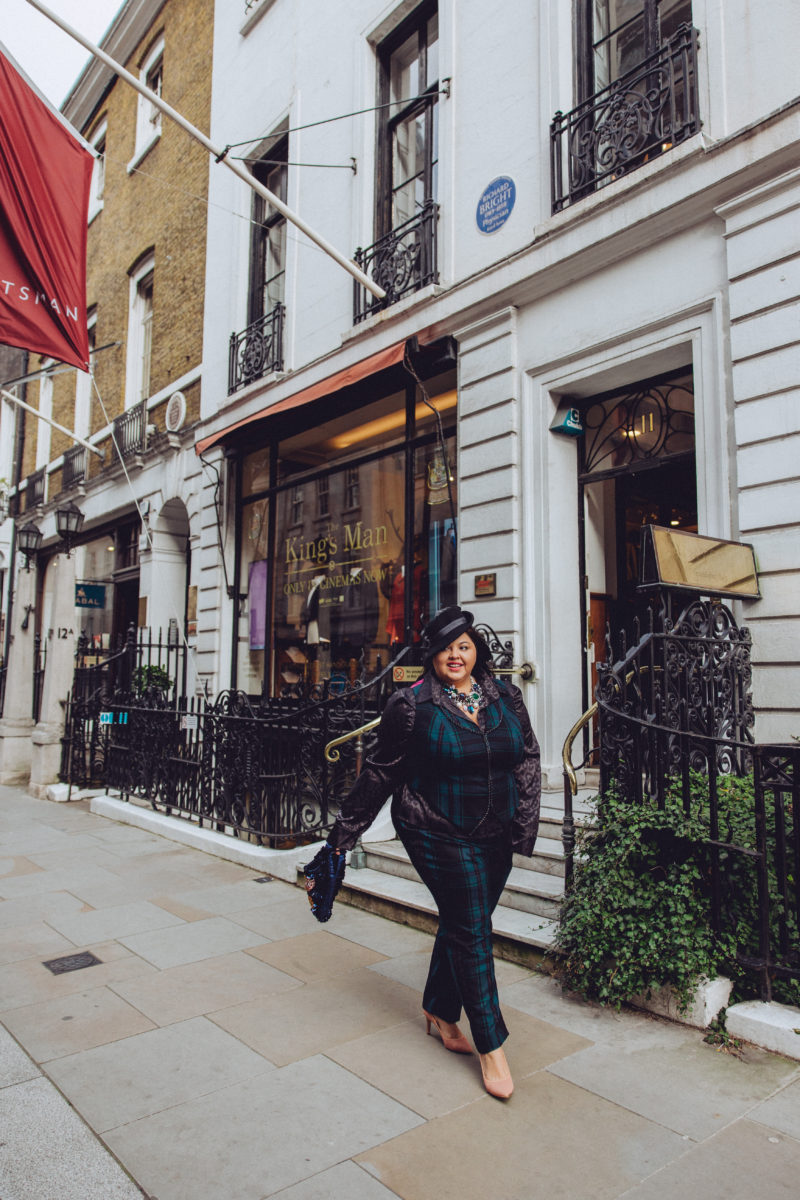 Renee outside 11 Savile Row on a recent visit to London
---
  Why Huntsman?
As a fashion nerd from childhood, I am drawn to the history and craftsmanship behind sartorial icons and few things are as iconic as Savile Row tailoring. Huntsman is the crown jewel in my opinion of the row -dressing royalty for generations and personal style icons like David Bowie, not to mention their integration into one of my favorite movies Kingsman. It was actually during the Kingsman sequel premiere that I realized the small world connection I had to Huntsman through my close friend Ebs Burnough and his husband Pierre LaGrange. They encouraged me to come in to get fitted despite my assumption that a plus-size woman may not have a place on Savile Row. I am endlessly thrilled that I took that advice! 
What attracts you most to bespoke tailoring?
I've always been someplace between curvy and plus size so I've had to get creative to create the wardrobe that I want. I mix it up with anything that fits my style and my body and has routinely designed my own clothing for special events which is how I was able to pivot into my own brand after the pandemic. One aesthetic I've always yearned for but have never been able to achieve was the power pantsuit with a sexy edge for a woman. Huntsman was the only place that could deliver for me! I had the honor of working with Campbell and Madga to create a perfect black shadow stripe suit, smoking jacket, and waistcoat. I brought them many challenges as a woman of a size they rarely (or ever?) tailor for, who also loves things bodycon, but of course, they met every obstacle to creating the perfect fit. There is no price tag you can put on skill and expertise like this!
 What does 'dressing well' mean to you?
Dressing well is feeling well. I firmly believe that style is an artistic expression of your inherent personality and tastes. I've never been a slave to trends nor do I hem myself in with a "signature style." 
My wardrobe must be as eclectic as my own multi-faceted personality. For decades being a political consultant demanded a classic professional look, but my personal life takes me to events like the Rock and Roll Hall of Fame Inductions which is where my edgy glamour side comes out. The mix of menswear and glitter of 1970's Glam Rock is actually what drew me to Hunstman. Of course, my Huntsman tartans could be styled in the most traditional of ways, but you'll most likely see me pairing them with accessories more fitting of Elton John. 
Magdalena fits Renee for her tweed kilt
---
My first tartan was the waistcoat suit of Huntsman green, and my most recent is even more special- a riff on a mini-kilt designed by me, made of my new personal tartan and perfected by Magda. 
The custom tartan project is the best thing you can at Huntsman and that's saying something! How incredibly special to pay homage to your heritage and life story through every color woven through warp and weft. This new skirt is the first piece cut from that cloth – a Cafaro tartan- which by rites of heraldry should never have been possible for an Italian-Ukrainian-American like me. Huntsman has not only bestowed upon me yet another wonderfully tailored garment but a new piece of my family legacy. Working on this project with them and my sister from start to finish has been one of the coolest experiences! I had seen Hamish Bowles shortly after his lavender tweed was finished and heard that the tweed project is not to be missed! I am so happy that I chose to embark on that journey! 
 Renne wears Huntsman tartan trousers and waistcoat, pictured next to her own tweed design
---
What has been your favourite Huntsman experience?
Every experience is exceptional at Huntsman, mainly because I love all of you here so much. Huntsman makes you feel like family and the warm, luxurious, and educational experience that I have every time I walk into 11 Savile Row is what makes this all so special. The shine never dulls on the excitement I have been fitted in those hallowed rooms where so many legends were fit before me. I look forward to collaborating on many more garments.