The Ultimate Private Pleasure As unique as its wearer
Get closer to your art
  A blast of colour. A flicker of movement. A flash of detail. In recent years, Huntsman has perfected the art of printing on silk and lining a jacket to deliver the ultimate private commission. For collectors, this service has opened a new route to personal expression. Beyond the choice of artwork, there is the pleasure of secrets and surprises to be had. As artist Ed Ruscha commented, when slipping on his bespoke suit: "You know that you wear the jacket like this but then there's this surprise, almost like you're flashing." He is one of a small number of individuals who have seen their vision brought to life in silk.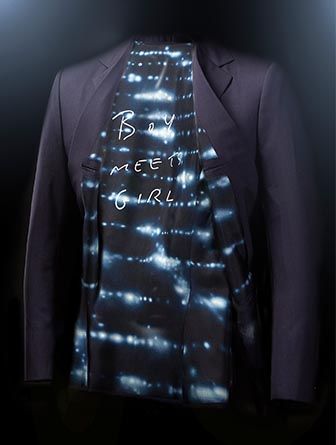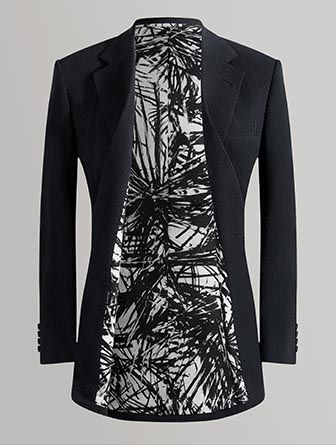 A limited edition
  Ruscha decided to feature his work Boy Meets Girl in a limited edition of six jackets made in 2016. Words seemingly etched in neon hover over a grid of night-time Los Angeles. The painting just happens to be owned by another Huntsman customer, actress and model Lauren Hutton, who'd won it from the artist on a bet in the seventies. "It's like all that early hope," she's said about Boy Meets Girl. '"When love is young, you can change, you can get excited about different things."
Classic meets colour
  For Pierre Lagrange, Huntsman chairman, here was an opportunity to play with expectations. On the outside, his camel coat is classically cool and stylish. Inside it explodes with colour – oranges, yellows, black and greens – in a detail from Francis Bacon, Landscape in Malabata. A technically demanding piece, balancing the tones and getting the best colour match was a highly collaborative process between printer, tailor and client.
Traditional with a twist
  It's this interpretation of desire that makes the process so satisfying. One Huntsman customer is an avid shoot enthusiast who enjoys attending shooting dinners in a smoking jacket with a twist. For inside his garment a covey of grouse bursts into flight, the clap of their wings almost audible in a print from fieldsports photographer Tarquin Millington-Drake.
Iconic impact
  The inside of a jacket is an incredibly powerful canvas on which to work. One of the most significant decisions is that of how to position the piece. But for Magritte's Man in a Bowler Hat, this was easy. There he sits, slap bang in the centre of the jacket. To anyone glimpsing the lining, all they will see is a delicious sky blue silk. To the wearer, the face is obscured, the dove forever in flight… To enquire about commissioning your own bespoke suit and lining, get in touch.