Huntsman Gazette- December 2021
Huntsman Gazette
The


Huntsman Gazette
Published: 25 November 2021 - 3rd Edition - Exclusive
Welcome to Issue 3 of the Huntsman Gazette. Over the last months, it's been a delight to see business return to normal, with our doors open at 11 Savile Row and W57th Street.
Over the Summer and into the Autumn we've launched exciting new initiatives and technology that makes it easier than ever to enjoy the best of Huntsman bespoke, introduced our stylish new season Ready-To-Wear collection, and with great pleasure invited guests back to the Huntsman Club for our first in-person events since lockdown.

Now that gala season is upon us, make an appointment to visit us, to ensure your occasion wear is in tip-top condition for upcoming festivities!
Huntsman Autumn-Winter 2021
This season we shot our campaign on location at a beautiful country estate in Hampshire. Watch how we created the campaign here.
As ever, Creative Director Campbell Carey has worked to create a capsule collection for the most sartorially discerning gentleman's wardrobe, and outfits for all occasions. For town and country, business and leisure this collection embodies the spirit of returning to a pre-pandemic way of life. Embracing a sense of opportunity and new enterprise.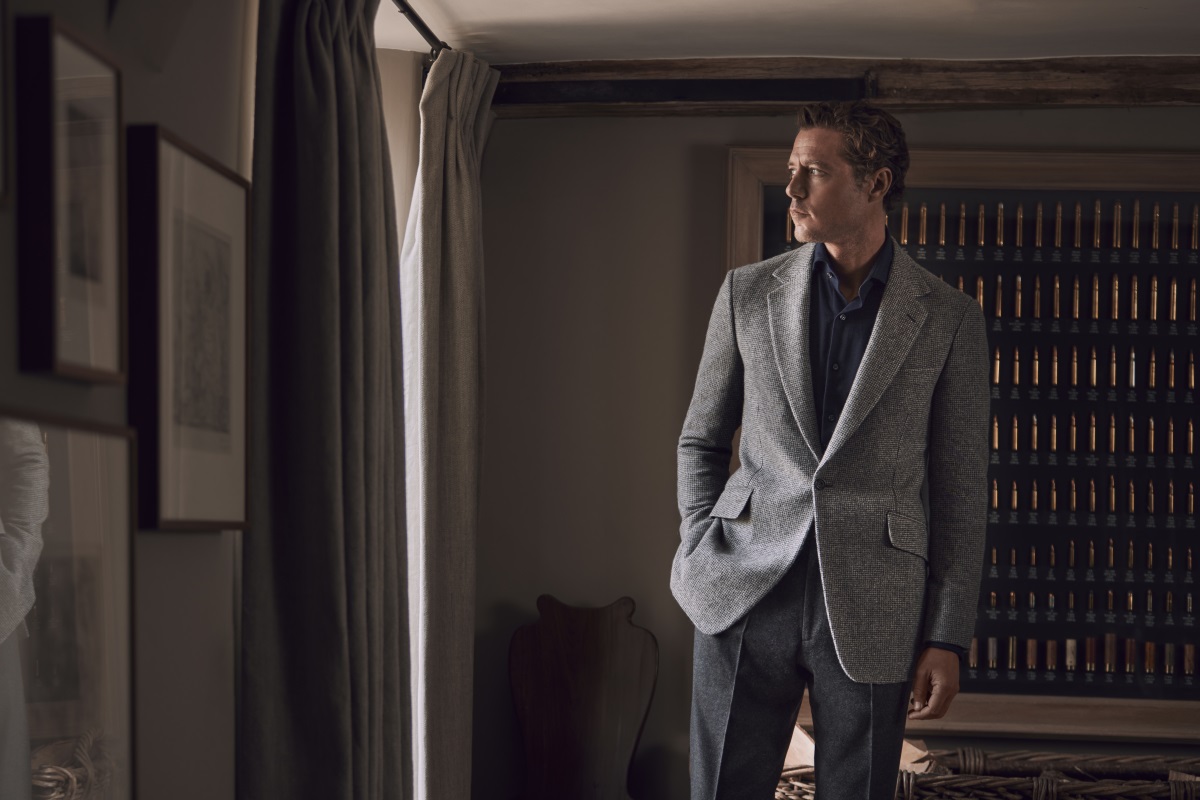 Cut, cloth and construction remain the ethos of our Ready To Wear collection. This season statement tweeds feature alongside classic herringbone sport coats, and rich, sumptuous textures in corduroy trousers, cashmerillo shirts and merino knitwear. With new styles of outerwear that combine the practicality and durability of technical fabrics with classic silhouettes, and suiting and jackets which support sustainable practice, and are sure to become wardrobe staples.
You'll find inspiration from our past with heritage tweeds, reinvigorated and reimagined for the contemporary gentleman, and a salute to the great Colin Hammick, in a statement double-breasted tuxedo, which crowns the collection.
From Sheep to Shop
With Escorial for Autumn-Winter 2021
This season the Huntsman Autumn-Winter collection features suiting and separates with an ethos of sustainable practices. Both a french navy herringbone sportcoat and navy suit are made with escorial wool, which has full traceability, from sheep to shop.
Join Huntsman's Creative Director Campbell Carey and Escorial Chairman Peter Radford as they discuss the unique and luxurious properties of Escorial and the importance of sustainable practices within the context of cloth production, and tailoring for the new season collection.
Bespoke Shirt Making is an important part of Huntsman's story. We have offered bespoke shirting for most of the twentieth century, Choosing a bespoke shirt guarantees a fit and feel that is as comfortable as a second skin, and will be a pleasure to live and work in.
Reviving a classic style
The star of the Autumn-Winter collection is the double-breasted peak lapel 'Hammick' Tuxedo.The offset V lapel on this tuxedo is a signature Huntsman style for peak lapel jackets, used on both single and double breasted garments, originally cut and defined by the legendary Huntsman Head Cutter Colin Hammick in the 1970's. Ordinarily the V of a peak lands in the middle of the lapel however the offset V on this makes the collar above it more substantial with a more vertical leaf edge, thus cheating the eye and creating the perfect balance of dramatic lapel and heightened upper body.
---
Shop The Hammick Tuxedo here.
---
Creating The Huntsman Autumn-Winter Window
Cut, cloth and construction are integral to all Huntsman garments; and the same is true of our Autumn-Winter window display.

The inspiration for this window comes from studying the composition of traditional stained-glass windows and celebrates the vibrancy of the changing colours found in an autumnal landscape, with the scene deconstructed as a series of abstract panels, designed to illustrate nature in flux.
The installation was part of the Art In Mayfair event in October, in which all of Savile Row and surrounding businesses in Mayfair turned their windows into gallery spaces, with art inspired window installations and exhibition pieces, in recognition and celebration of Mayfair's rich art heritage.

Watch how we created the Huntsman Autumn Winter Window here
The Huntsman Cloth Library
A worldwide exclusive!
In October we were excited to unveil the Huntsman Cloth Library, truly a world wide first! We can now offer you the most comprehensive collection of cloth in the world, at your fingertips.

Our new digital cloth library allows you to access cloth at your convenience, and plan your next purchase with ease. Plan your next bespoke order with over 11000 cloths from Europe's most prestigious mills in our easy-to-use online library.

With a click of a button, you can select your cloth and have up to five swatches delivered straight to your door.
One of our most ambitious projects to date, in developing the cloth library we harnessed data-scraping technology to find and convert the multiple cloth catalogues from the world's most prestigious mills. Once collated, we digitized over 11,000 cloth samples for the platform.

In reformatting the assets we are able to cross-categorize them, allowing you more easy ways to search, find, and filter for every occasion.

Now, you can cross-reference from different mills, by colour, composition, weight, and price, as well as by season, occasion and our specially curated favourites.

Try The Cloth Library here
At the Huntsman Club
After 18 months, we were delighted to finally welcome members of the press and friends of Huntsman back to the Clubroom for our first in-person events since lockdown restrictions eased. To kick off events in style, we hosted a champagne breakfast for esteemed members of the press to launch our new Autumn-Winter collection and The Cloth Library.
As part of our own Art Of Bespoke initiative, we also invited guests of The Arts Club for an evening of talks and demonstrations on the bespoke tailoring process. The evening ended with a particularly special whisky tasting by William Grant & Sons.
The Huntsman Club is available to all Huntsman bespoke clients, if you're interested in holding your own event, or function, please contact us for more information.
Huntsman For Balenciaga Couture
Huntsman was delighted to be featured in Demna Gvasalia's debut couture show for Balenciaga. The collection, which includes tailoring for men and women, premiered in Paris, opening with structured silhouettes handcrafted by Huntsman tailors.
Bringing couture back to the French Maison after a fifty-three-year hiatus, Balenciaga Creative Director Demna Gvasalia turned to Huntsman to help hand-craft his vision. Tapping into the Maison's deepest roots with a compelling homage to the century-old brand's unique heritage, the collaboration with Huntsman recognises our world-renowned craftsmanship, which once dressed Cristóbal Balenciaga himself.
This collaboration was an innovative moment, powered by expertise that can only be cultivated by centuries-old tradition for greatness. The Huntsman for Balenciaga Couture collection offers the highest creative and qualitative level of product to customers, guaranteed by both houses' excellence, craftsmanship, and style.
The countdown to Christmas has officially begun.
Have you got your gifts sorted yet? Let Huntsman help take the stress out of seasonal shopping with our unique luxury gifts and accessories, available to buy in store and online today.
This year, we have plenty of ideas for even more thoughtful gifting with personalisation services available across our range of luxury accessories. You'll find elegant and novel ideas on how to add those finishing touches to make sure your loved ones know just how special they are, with the choice of embroidery, monogramming and bespoke labeling for your gifts, as well as personalised jumpers and christmas stockings.
With presents for all budgets, and all tastes, you're guaranteed to find something you'll love. Remember to look for the 'Personalise Me!' tag on products when shopping the guide for elegant ways to customise your gifts for a loved one.
And if you're really stuck for ideas, use the HUNTSMAN LIVE button online to be connected directly with our team in 11 Savile Row and W57th Street, New York, who can give advice, make recommendations and show you how easy it is to personalise your gifts
---
Huntsman x Jo Malone
An exquisite new scent for your home
Following the success of the Huntsman x Jo Malone signature fragrance collection, a new scent for your home, just in time for Christmas. Inspired by one of our most popular fragrances, the smokey, seductive whisky & cedarwood is an enigmatic blend of Fine whisky, edged with notes of spicy pimento, finished with warm cedarwood. A sophisticated, warming scent, perfect to burn as the nights are drawing in.

The new candle, along with our four signature scents are available to shop online now.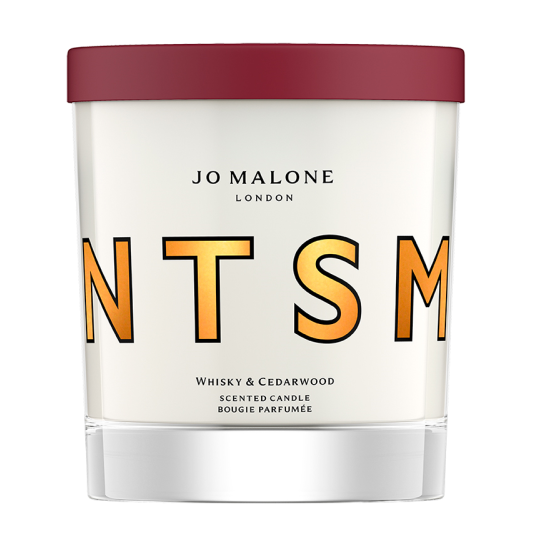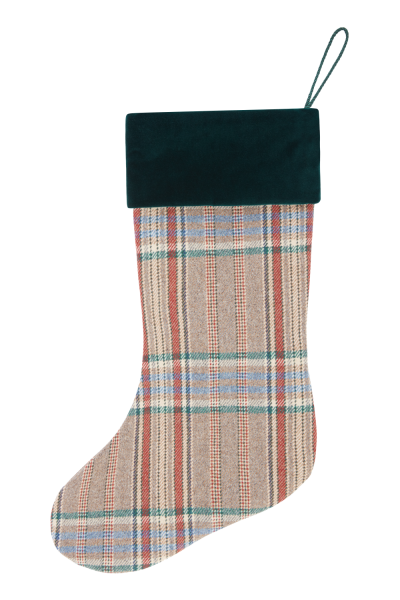 Bespoke stockings by Huntsman
This year, spoil a loved one, or the whole family and surprise them with Christmas Stockings from Huntsman. Children and adults alike will agree with glee, the thrill of waking on December 25th to find a stocking hung with care.

Now, you can make Christmas morning feel especially festive by choosing from one of 4 four Huntsman house styles, or use our Made-To-Order service to choose your own sumptuous velvet cuff and house tweed sock. Don't forget to add up to four initials to be embroidered on the toe.
Your Bespoke Calendar
Now is the time to think about outerwear, and if you're looking for something really eye-catching, our new limited edition tweed is just the thing. Created by Huntsman Creative Director Campbell Carey, this new cloth was inspired by an archive double breasted Huntsman overcoat. Available in limited quantities, it's perfect for jackets, trousers and coats, for ladies and gentlemen. Speak to us today about your next bespoke order, and the new AW2021 Tweed.
From W57th Street
See all our latest trunk show visits from Ed and the team.
San Francisco

30th November & 1st December 2021
Los Angeles

2nd & 3rd December 2021
Washington D.C.

13th & 14th December 2021
Boston

16th & 17th December 2021
The King's Man is coming to theatres this December
The wait is almost over for the forthcoming installment of Kingsman, The King's Man, which is due to be released in theatres on December 22nd. This action-packed prequel to the first two Kingsman movies see's more sensational period outfits created by Huntsman, for the feature's leading lights. There's sure to be plenty of bespoke inspiration, with exquisite tailoring provided for the film by the team here at 11 Savile Row. From our cutting boards and workshops, Campbell Carey and the Huntsman tailors worked closely with the film's wardrobe department to bring unique style for each character.
Inspired by the movie which is set in the 1900's, Huntsman has created our exclusive 1919 collection, a year of prominence for us, as we moved from our original home on Bond Street and took residence at 11 Savile Row. With elegant accessories in timeless designs, perfect for the contemporary Huntsman, the 1919 collection features the signature morse code design and 1919 insignia. Great for gifting in time for Christmas, shop the collection here.
The Huntsman 1919 Collection and The Kings Man is sure to provide plenty of sartorial inspiration. Watch as we share the moodboards for each outfit ahead of the film's release to get an exclusive insight into the creative process, and how Huntsman bespoke tailoring helped bring this blockbuster to life, with accuracy and elegance!