A window display championing our new Spring-Summer collection. If you have a full social calendar, make sure you spend your summer in style!
The latest window display at 11 Savile Row celebrates travel at home and abroad, with quintessential Huntsman tailoring from our latest ready-to-wear collection. Whatever you have planned, these timeless pieces from our latest capsule collection will guarantee that you stay chic in all warm-weather climates, and for all occasions.
The colour pallet for the window is patriotic red, white, and blues, mirrored in the luggage and reflected in the union jack flags that frame our mannequins. This is a particularly important month as we celebrate Her Majesty The Queen's platinum jubilee. We join the rest of Savile Row, and indeed the country in giving thanks and in celebrating her glorious, and record-breaking reign, with a window display that has an iconically British colour scheme. 
The Platinum jubilee is but one of many significant events to look forward to this year. Less than four weeks away Savile Row plays host to the spectacular Concours; a luxury automotive show of worldwide prestige. With the street set to play stage to some of the most expensive, rarest and unique luxury cars, concept cars and supercars, be sure to check it out for yourself on the 15th and 16th of June, and with temperatures set to soar in the United Kingdom, whether you're holidaying abroad, or staying on familiar shores; your social calendar is sure to be peppered with events.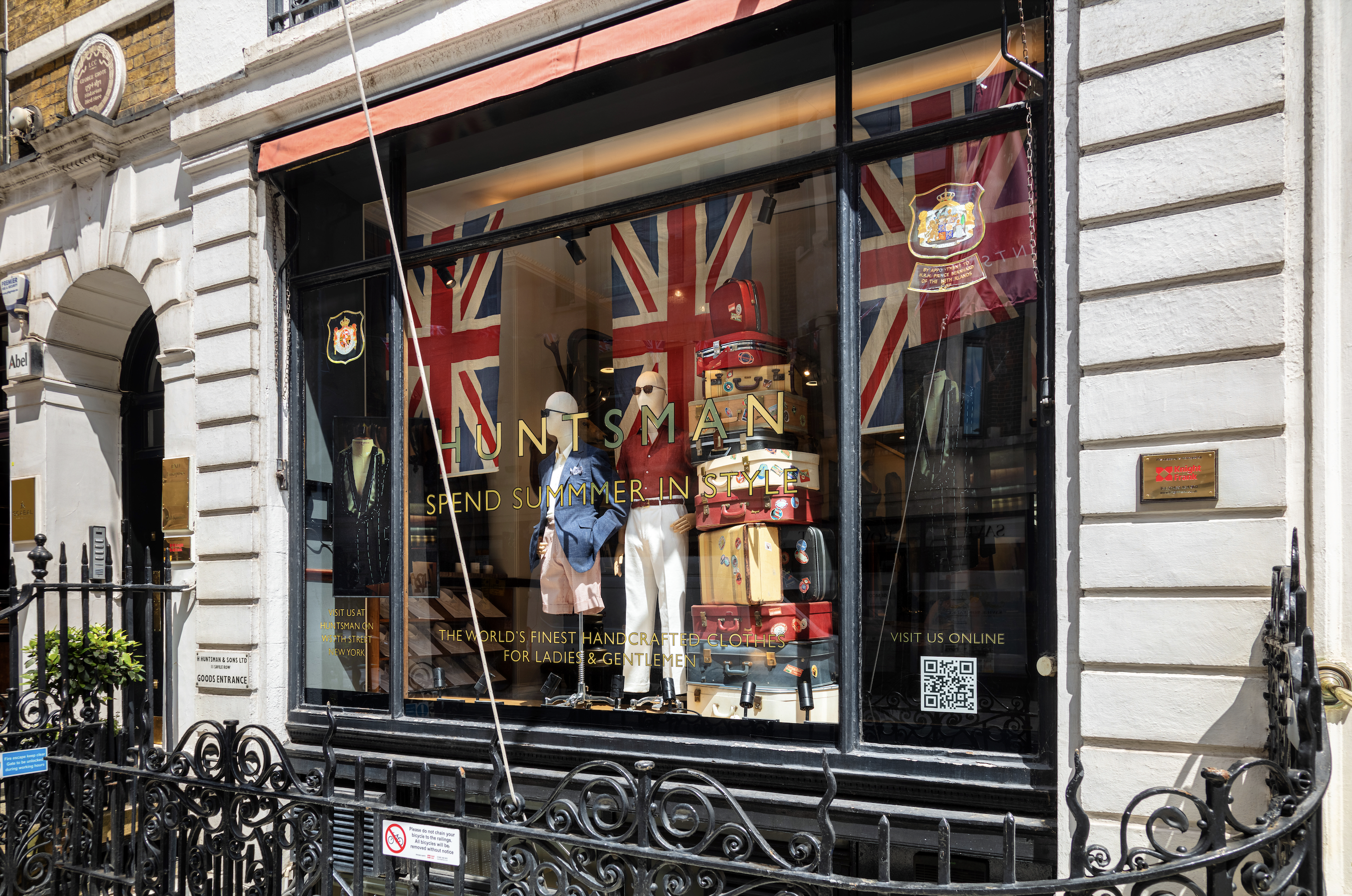 This window display features just some of the timeless elegant tailoring, designed by Huntsman Head Cutter and Creative Director Campbell Carey. To compliment our ready-to-wear collection, which features easy-to-wear linen shirts in vibrant red, tailored jackets, and of course, those pristine white Hollywood-style trousers- a nod to the beauty of bespoke tailoring for summer, with a pair of seersucker shorts.
However you're spending your time; cheering from the Mall, travelling to tropical destinations, or spending the social season in London, discover how Huntsman can help you spend summer in style.