Huntsman CAMPAIGNS
Huntsman's ready-to-wear collection is intended to reflect the timeless style, superior craftsmanship and clean-cut elegance of Huntsman's bespoke clothing in every respect. Campbell Carey, Huntsman's Creative Director, has imbued the house's ready-to-wear collection with the British handwriting that has set Huntsman's bespoke creations apart for the past 160 years.
Autumn Winter 2017 CAMPAIGN
  At the heart of the collection, as ever, is the house's iconic single-button jacket, with its slim silhouette and tapered waist. Our standout design this season is the Cashmere Sports Jacket, available in two colours, Green Dorset and Blue Sussex. It features a ticking check design recently discovered in our archives by Campbell and brought to life in collaboration with Joshua Ellis, to celebrate the cashmere manufacturer's 250
th
anniversary. Sourced from inner and outer Mongolia, the cloth is made up of eight yarns, which are twisted together to create a luxurious finish and remarkable depth of colour. Originally available only in bespoke, its move into our ready-to-wear line evidences the way our activities inform each other.
Another fine fabric making its first appearance in ready-to-wear is cashmere doeskin, which is used to create a luxury version of our classic Navy Blazer. As its name suggests, doeskin has a soft, lustrous finish achieved through a tight weave, giving it a luxuriant sheen when light falls on its surface. The blazer pairs beautifully with another classic: dark grey flannel trousers. Campbell has introduced a new flat fronted style this season, which creates the impression of length and is almost regimental, looking good with or without a jacket. This slim cut is also available in three different check designs of varying boldness, from subtle to statement piece.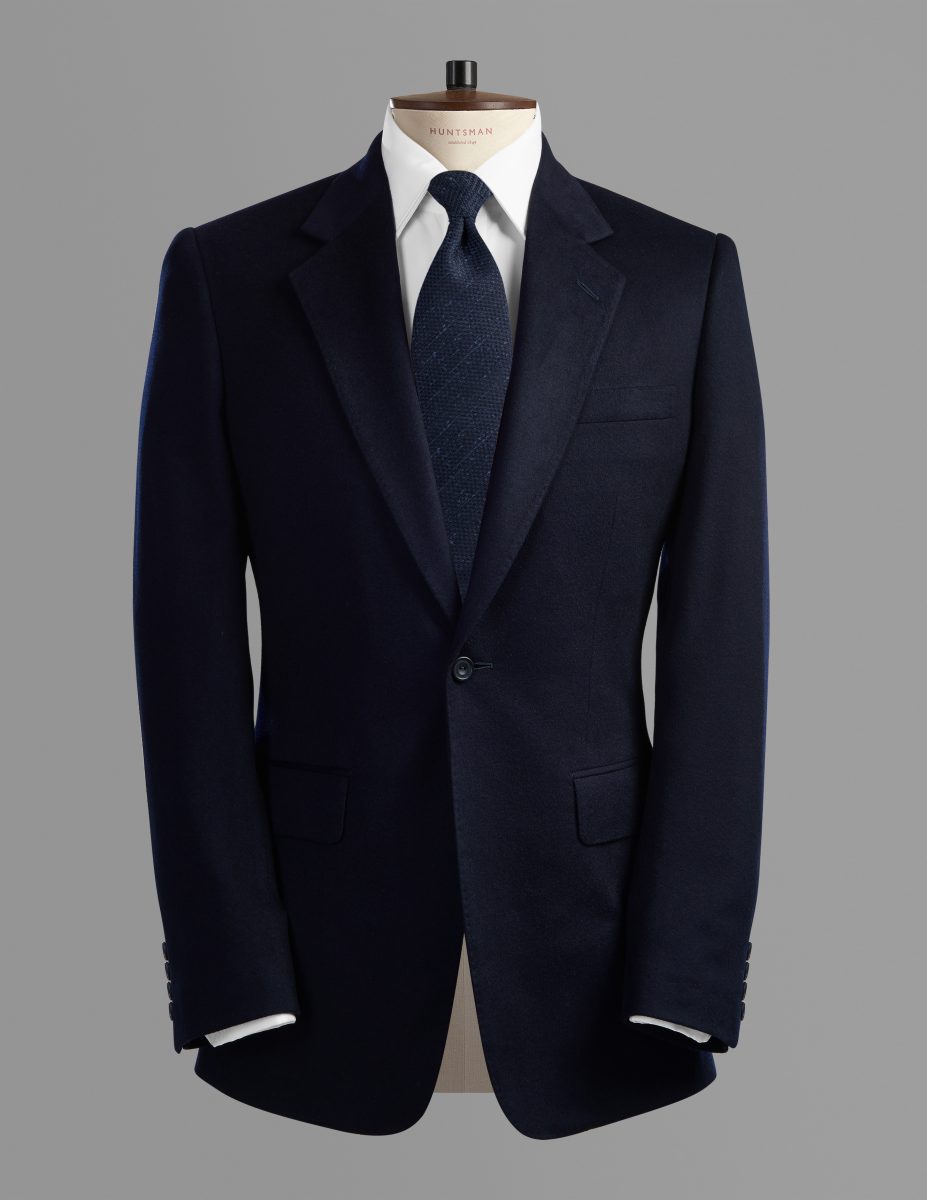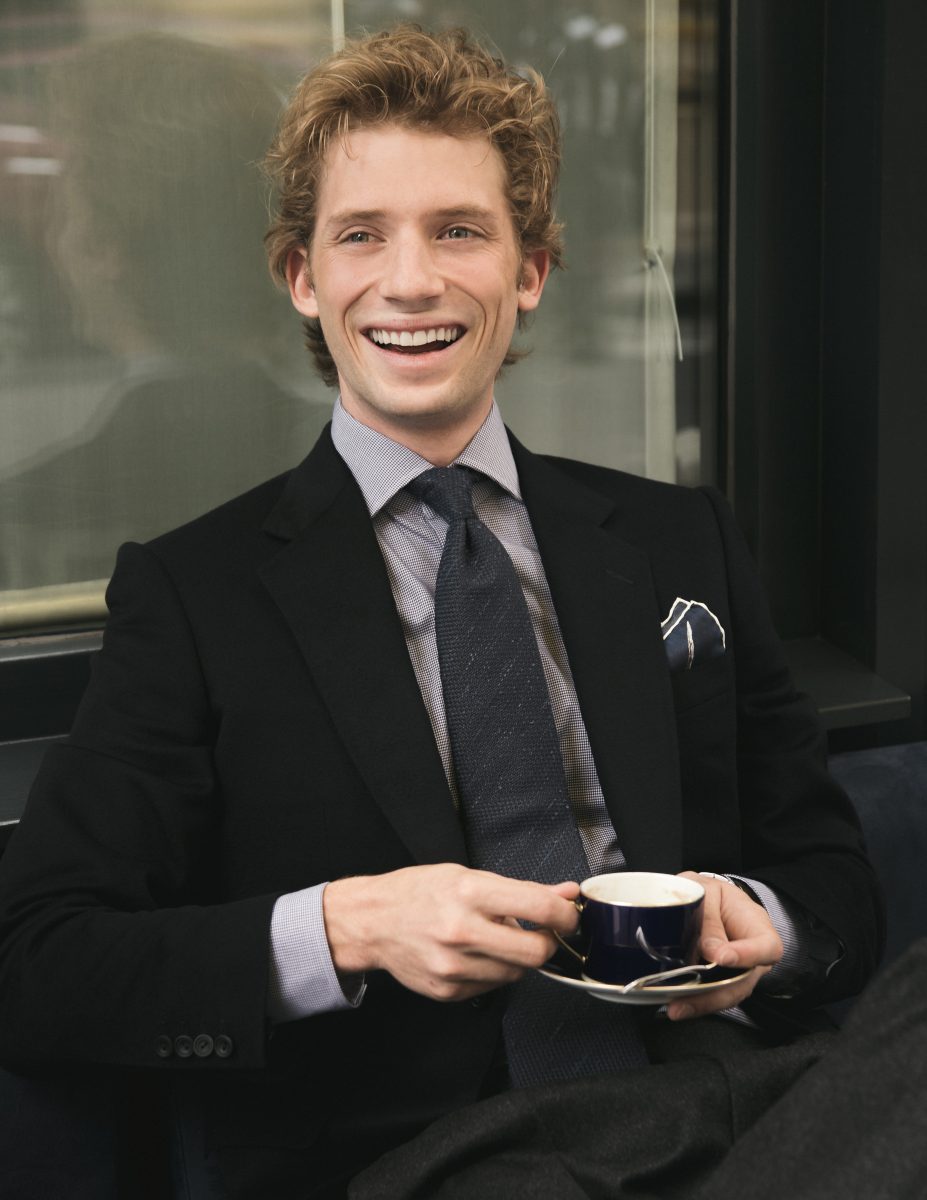 Campbell's intuitive understanding of cut and styling can be seen at its sophisticated best in one of the collection's highlights, our Midnight Blue Evening Suit. While black is the more traditional choice for evening wear, our suit is inspired in part by Daniel Craig's rule-breaking midnight blue tuxedo in Skyfall. The matt finish of a hopsack weave contrasts with the lustre of a satin lapel, the curves of which have been designed to sit higher on the torso, giving the impression of a longer waist line.  
Spring Summer 2017 CAMPAIGN
  Huntsman's ready-to-wear collection for Spring Summer '17 offers clients a versatile and performance-driven selection for the warmer months. The Huntsman suits all compromise of natural light fabrics that include linen, silk and bamboo all of which hold temperature regulating properties while remaining comfortable, durable and stylish. This collection builds on Huntsman's core silhouette of the one- button Machir style, an easy yet refined look that will see the wearer effortlessly through the British Summer.
Weekend wear and tailored separates feature prominently in the collection, and Carey has introduced a number of timeless designs with a focus on high-performing natural fibres. Alongside our lightweight navy cashmere blazer, perfect for business or pleasure, we've introduced two sports coats in soft natural linen and a timeless shade of navy; each with notched lapels, twin-rear vents and pleated patch-and-flap pockets - a chic detail taken from the house's archives. Our new navy 100% bamboo sports jacket uses a new bamboo cloth, performant and sustainable. Bamboo is a rare and precious fibre, which behaves like silk, is just as breathable and considerably more hard-wearing. The result is a unique jacket that performs brilliantly right through the season. Alongside staple shades of mid and pale grey, warm brown tones are very seasonal, so the collection includes a sumptuous Italian cream linen herringbone jacket, taupe Prince-of-Wales checked jacket and rich tobacco linen trousers for a seasonal nod to contemporary fashions.
Huntsman is also proud to announce that we're carrying Turnbull & Asser shirts. An extraordinary shirtmaker with a 131-year history, we felt that the house was the natural partner for our new-season shirting collection. Cut in the finest extra-long two-fold Egyptian cotton (which is handpicked for flawless quality) and woven in Italy, these shirts are designed to offer uncompromising quality and durability. For this season, Carey has created two new and exclusive collars: Huntsman & Hammick (in deference to legendary former Head Cutter Colin Hammick).  
Autumn Winter 2016 CAMPAIGN
  The constant in our AW16 line-up is the sleek, flattering cut of the classic Huntsman's suiting, which centres on our signature single-breasted, one button jacket and tapered waist. One of the highlights of this season's tailoring is Huntsman's flannel suit, which is designed in both classic, deep navy and slate grey. The latter shade celebrates the 60th anniversary of the 1956 film "The Man in the Grey Flannel Suit," which starred notable Huntsman customer Gregory Peck, whose grey flannel suit was in-fact, designed by the house.
Our standout design for Autumn is the Machir Jacket, a single-breasted sports coat in a windowpane check tweed. Its sporty silhouette was inspired by a Huntsman shooting coat, with pinch pleats at the back and a half belt for ease of movement, along with deep bellows pockets to hold a scarf or gloves. The jacket is named in honour of Machir Bay on Scotland's Isle of Islay, the home of the mill where Huntsman's tweeds are woven. This season, the windowpane check tweed is in four distinguished shades – deep blue, moss green, whisky, and heather grey.
Among Huntsman's accessories for the season are pocket squares, in fabrics that span plain white cotton to a monkey print, to celebrate 2016's Year of the Monkey in Chinese astrology. We also introduce cashmere scarves for the first time, in colours that include navy, olive, grey, and silver.
Spring Summer 2016 CAMPAIGN
  Huntsman's Spring/Summer 2016 ready-to-wear collection is intended to reflect the timeless style, superior craftsmanship and clean-cut elegance of Huntsman's bespoke clothing in every respect. With a timeless aesthetic in mind, subtle use of texture is key to the collection. Suits and separates are cut in luxurious herringbones and hopsacks that lend themselves to a soft, contemporary look. Suitings are lightweight wool, designed to both travel and breathe easily, whilst separates range from lightweight navy cashmere blazers, to soft cream and ecru blended sports coats. The colour palette is sartorial and restrained, with ecru and ivory sitting alongside classic navy, English cornflower blue and soft sky blue for a pop of colour.
Campbell has also introduced a range of sophisticated, perennial eveningwear looks, creating our iconic house-style dinner dress in ready-to-wear. Whether it is the signature shawl-collar single- breasted dinner suit in black barathea, or an elegant midnight blue single-breasted dinner jacket, the collection is able to fulfill all formalwear requirements. The quality of design and manufacture throughout is uncompromising, intended to reflect the high standards that we set ourselves, offering customers a collection of considered and elegant options to draw upon this spring.