The cars, the event & what we got up to in the Huntsman Club
An incredible two days event with some of the most unique luxury automobiles in the world. 
In June of 2022 Savile Row hosted its first-ever Concours. From pre-war thoroughbreds to the latest electric hypercars, some of the greatest cars ever made, partnered with Savile Row tailors in celebration of the tradition of luxury car building and the craftsmanship of bespoke tailoring.
At Huntsman, we were delighted to be partnered with our sponsor Hagerty,  the specialty automotive insurance provider, and Bentley Motors Mulliner Division.
Bentley Mulliner Division specialises in making their clients custom build dreams a reality. The ultimate in bespoke automotive design, Bentley Mulliner approaches every car commision with the same enthusiasm, passion and meticulous craftsmanship as we at Huntsman do when creating a bespoke suit. Concours provided an opportune moment for both brands to celebrate our previous collaborations and reflect on these shared synergies.
Closed to traffic, Savile Row became the red-carpet stage on which over 40 world-class cars were on display to the public, within each tailoring house; talks, demonstrations, and exhibitions were on display to VIP guests.
The Huntsman Club was perfectly situated to see the amazing cars on the street below and it was with great pleasure that we welcomed esteemed guests of Hagerty, Bentley, and fellow Concours partners to enjoy refreshments from the Huntsman bar and experience some of our own exclusive events.
Across the two days, Huntsman Head Cutters Dario Carnera and Campbell Carey joined discussion panels, with automotive industry experts, classic car collectors, and racing commentators to talk about the transcendent nature of bespoke tailoring and luxury automotive lifestyle. Chaired by legendary Motor Sports commentator and Journalist, Campbell Carey was joined by Hagerty's Dan Cogger to give the audience a behind-the-scenes look of how Huntsman became the Home of Kingsman.
On display: The Kingsman 1964 Jaguar E-Type
This Jaguar E-type came very close to being the example bought new by famed James Bond set designer Ken Adam, whose order was eventually fulfilled by the example just a few cars behind this one on the assembly line, although of course it was fully upstaged by the gadget-laden Aston Martin DB5.  It would take 30 years, but the car that missed its chance to be in a Bond film would one day have its moment in the spotlight.
That day came in late November 2016 when MARV Productions were seeking a dark green E-type Coupé for its hero of Kingsman: The Golden Circle, played by Taron Egerton, As luck would have it, the team at Eagle had just completed an overhaul of this car including a repaint in a unique version of its original dark green, a re-trim in tan leather and a whole suite of the company's definitive upgrades. The perfect car for a super-spy about town.
Kingsman's company cars might officially be weaponized London Cabs, but it's safe to say that this Eagle-engineered E-type, the personal transport of Kingsman's most important agent, is more befitting of the refined and elegant nature of its HQ at No.11 Savile Row.
---
Dario was joined by Clive Beecham, owner of a truly unique car: a custom Ferrari itself, previously owned by Gianni Agnelli. Agnelli was of course a client of Huntsman, who had created for him a comprehensive and electric wardrobe; everything from signature double-breasted flannel suits and jackets, to tweeds and corduroy trousers, and sports coats in bold checks! Needless to say that with such impeccable style transcended every aspect of his life, as is reflected in his choice of automobile.
On display: 1950 Ferrari 166MM Barchetta
Owner: Clive Beecham
This 1950 166MM – chassis 0064M and no. 24 of only 25 – has an amazing story; it was built for Fiat empire heir and eventual owner of Ferrari itself, Giovanni Agnelli. He put his stamp on the car from the start, thanks to unique 'teardrop' rear lights, distinctive two-tone paint and a custom dashboard.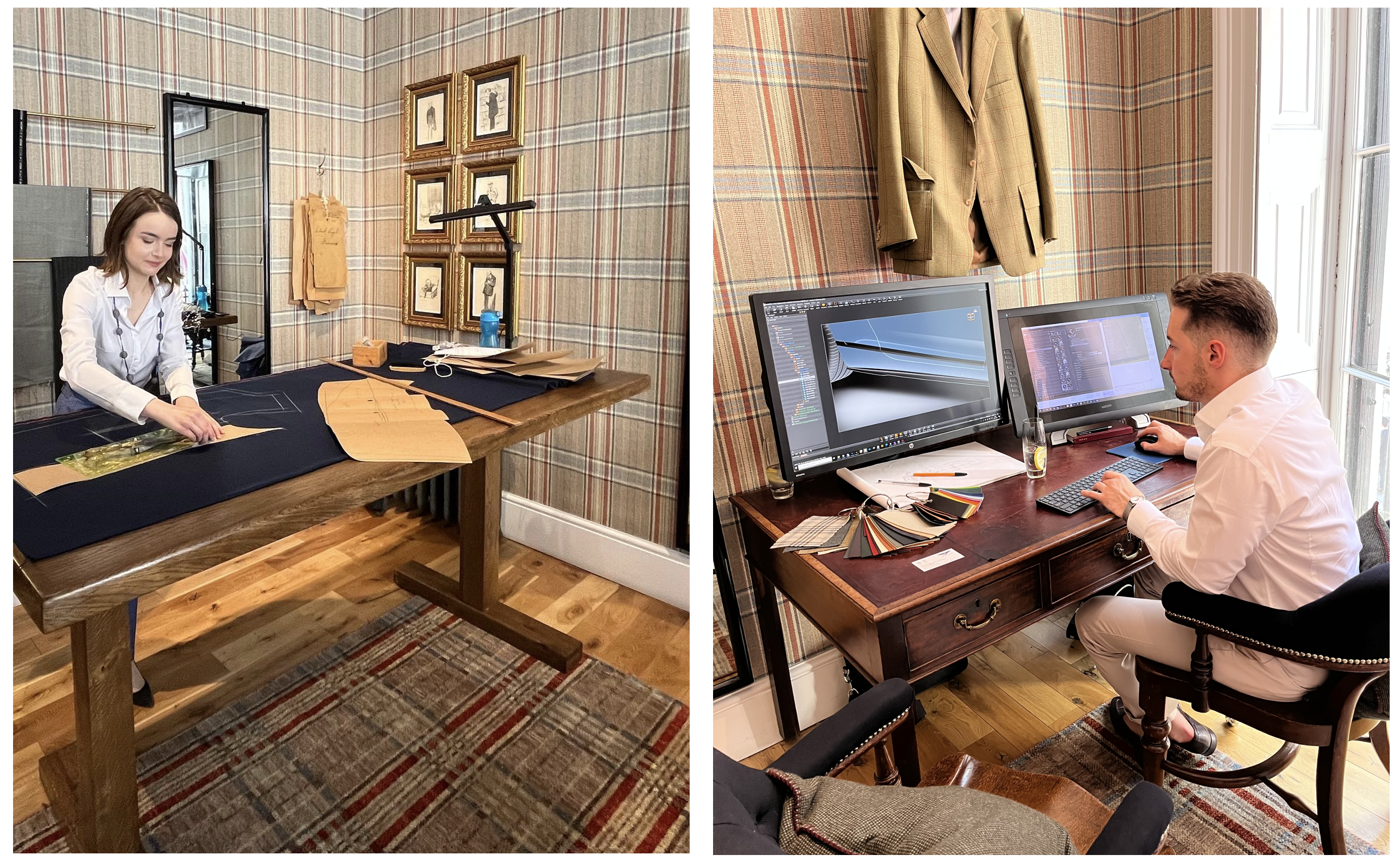 As well as talks, the Huntsman team demonstrated the art of bespoke tailoring, from a newly installed club-room cutting table. Adjacent, designers from Bentley Mulliner invited guests to design their very own Bentley, with interactive demonstrations and one-on-one appointments. Clients could see their designs come to life as their car was rendered in real time, and outside Huntsman, alongside the Kingsman Jaguar E-Type, Bentley's two show-stopping vehicles took centre stage.
---
On display: 2022 Bentley Mulliner Bentayga
Targeting the discerning outdoors sportsperson, the Bentley Bentayga's latest limited-run Mulliner Collection is named for, and centres around, Outdoor Pursuits. Available only to UK customers, this unique hand-built version of the Crewe marque's luxury SUV is themed on angling, equestrian activities and canine friends, and the exclusive models feature curated interiors among other enhancements.
In the application of herringbone tweed, bespoke embroidery, unique veneer overlay combinations and detailed stitching, the trim demonstrates Mulliner's capability to inspire bespoke cabins. The theme continues on the outside, with diamond-turned, 22-inch, ten-spoke wheels matched to the specially chosen Havana, Cumbrian Green or Magnetic exterior paint. The fine detailing extends as far as a bespoke Hunter Flask bound in leather to match the interior.
---
On display: 2022 Bentley Bacalar
Not only is the Bacalar the most exclusive and bespoke Bentley of the modern era, it also marks the Crewe-based luxury marque's return to the pinnacle of high-end coachbuilding – thus making the car's appearance at the Concours on Savile Row even more pertinent.
The 6.0-litre W12-powered, four-wheel-drive two-seater by Bentley Mulliner – the world's oldest coachbuilding company – heralds a new three-portfolio future for the brand: Classic, Collections and Coachbuilt. Its 'Barchetta' design delivers the ultimate expression of open-top, driver-focused grand touring, and only 12 distinctive cars will be designed, engineered and hand-crafted to individual customers' tastes. All have already been allocated.
Reflecting Bentley's commitment to a eco-friendly future, the elegant model's sustainable craftsmanship and ethically sourced materials includes rice-husk ash paint and 5000-year-old Riverwood, while the Bacalar will be produced in the world's first certified carbon-neutral factory for the manufacturing of luxury cars.
---
As well as being the esteemed host to our guest speakers, Simon Taylor too had a remarkable contribution to the car collection. Alongside the Bentayga and Bacalar, his own 1936 Sedanca Coupé
On Display: 1937 Bentley 4¼-litre Sedanca Coupé
Owner: Simon Taylor
Commissioned in 1936 by the Vicomtesse Yvonne Cahen d'Anvers, this Bentley was bodied by Gurney Nutting in a style similar to that of her husband Anthony Gustav de Rothschild's Hispano Suiza.
Gurney Nutting's John Blatchley was given a money-no-object brief and came up with a sweeping close-coupled coupé in black and white that was a marked contrast to the more reserved Gurney Nutting offerings. Suitably impressed, the Vicomtesse approved the build, but it took so long to construct she lost interest and bought something else. HR Owen promptly sold it upon completion and, after 20 years, the car headed to the United States. It stayed there until the late 1990s, when Simon Taylor brought it back to the UK.
To finish off each evening,  guests were treated to an exclusive whiskey tasting by renowned Scottish distillery Macallan a perfect way to round off two remarkable days.