---
Autumn- Winter 2020 The Collection
Elegant tailoring remastered for modern living
---
,
---
Autumn- Winter 2020 The Collection
Elegant tailoring remastered for modern living
---
"With lasting lifestyle changes such as working from home, and less travel, our Autumn/Winter '20 theme is all about heritage looks remastered for modern living.  This season has given us the time to pause and appreciate just how rich and varied our surroundings are within the British Isles and the inspiration was drawn from the British landscape, both natural and man-made.
Drawing on the unexpected vibrancy of colours appearing throughout our winter, our exclusive tailoring and outerwear cloths are accented with rich coloured shirts, knitwear and trousers. Foreshadowing the current trend for separates, we have focused on creating elegant jackets and trousers, beyond the classic two-piece suit. Versatility as always is key and all pieces in this collection can easily be dressed up or down. These timeless pieces will fit perfectly into your wardrobe, to be enjoyed season after season."
- Campbell Carey, Creative Director
A natural progression from our relaxed collection of summer jackets and trousers, Huntsman Autumn-Winter ready to wear offers new styles on classic silhouettes, vibrant tones in corduroy and cashmere, and a comprehensive selection of knitwear to complement our shirting.
Key for Campbell was creating a collection that reflected the true beauty of the British Isles in autumn-winter, especially playing with the unexpected depth and richness of colour to be found in nature across the seasons. Rust, sage and khaki are both juxtaposed and complemented with coral, sea green, and denim in our trousers and jackets.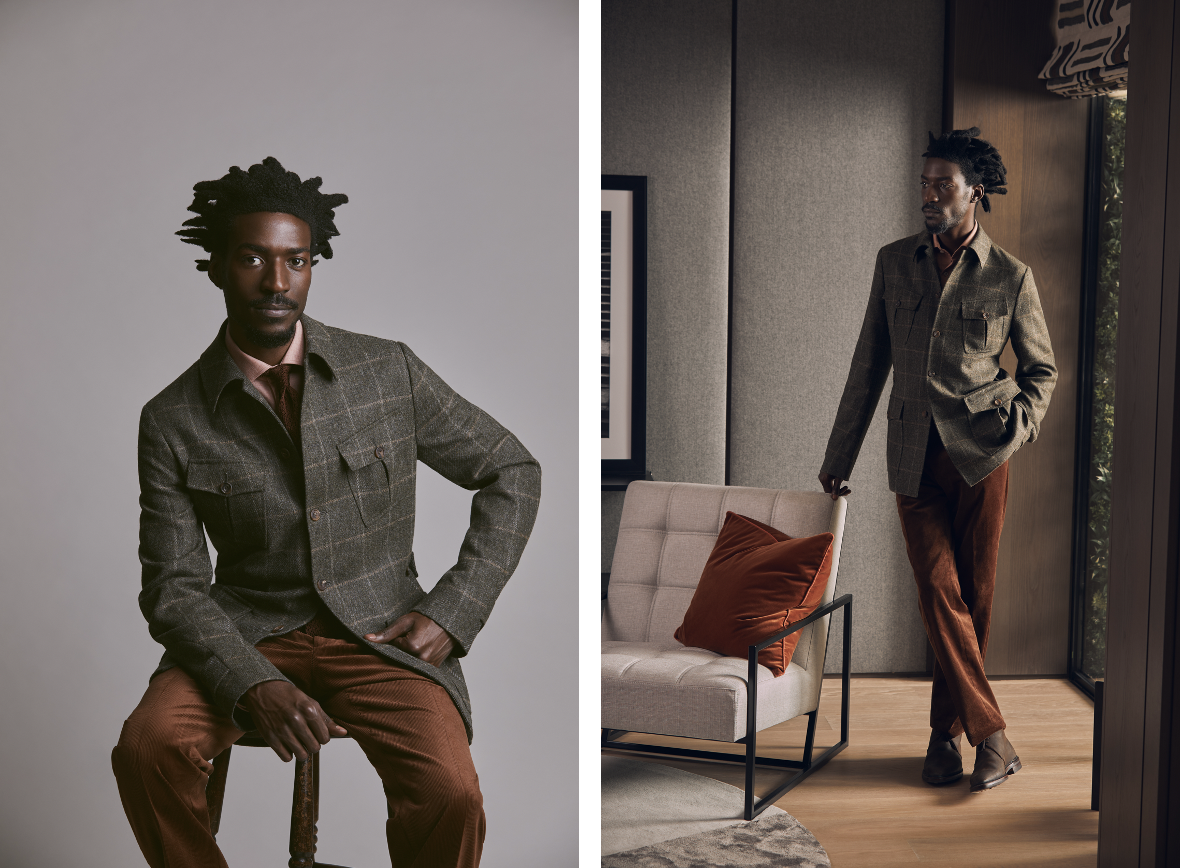 Campbell has created a collection of beautiful separates that illustrate just this. From corduroy in contemporary colours to the timelessness of balmacaan overcoat, in double black hopsack, and tailoring which works for now, such as the 4 point star unstructured cardigan jacket, which looks as elegant with a cashmerello shirt as it does with a jewel tone turtleneck sweater. Not forgetting, of course, arguably the ultimate in versatile separates, the flannel trouser, this season in a Hollywood cut, in forest green- tailoring impressive enough to negate the need for a sports jacket. 
Turning to our archive for inspiration on this collection, Campbell used the colours he found in our vintage cloth ledgers as a starting point.
"What you don't realise from a black and white photo is the colour and vibrancy of the cloth. Even as far back as the turn of the century, there was nothing drab about gentlemen's suiting! The beauty of having these archive cloths to hand is that you can really study in-depth the composition of each fabric."
From here, Campbell was able to develop designs in weights and styles that suited the modern Huntsman. Lighter, more breathable, and durable. Cloth that works with you and for you, combining the contemporary with the traditional to create a collection that feels truly timeless.
Campbell took nuances from heritage cloth designs and reinterpreted them with a contemporary weight and weave. Campbell turned to Mallalieus of Delph, a Mill he became closely acquainted with whilst working with Costume Designer Michelle Clapton for the upcoming Kingsman feature, 'The Kings Man'.
"Having established a relationship with the mill whilst working on The Kings Man feature, it was a pleasure to work with Mallalieus of Delph for our own collection… travelling up to meet the team, I was instantly impressed with how dedicated they are to producing the finest quality and designs that are totally right for this collection."
Based in Delph, on the border of Yorkshire and Lancashire, Mallalieus draws on the centuries-old tradition of British textile manufacturing. Independent, family-owned and fully vertically integrated, the mill specialises in producing superb woollen cloths.
Just as this collection reflects how we live and work, so too does the way we shop, which is why with the launch of this collection we've made it easier than ever for the Huntsman at home to enjoy. 
With the latest technology from HERO, we bring the physical Huntsman boutique experience online! You can add a level of sophistication to your online shopping with on-demand service from our team at 11 Savile Row and W57th St. Get advice, assistance and browse products in real-time with one of our dedicated client managers, and you'll soon realise this is so much more than just a zoom call. Huntsman service at the touch of a button, from the comfort of your home. There's no more deliberating about size or style, or how to wear it and care for it! We're on hand to answer any questions.
Clients within London can also enjoy our premier concierge service from TOSHI. Experience the ease and comfort of having a Toshi assistant deliver your goods, wait whilst you try on, take measurements and fit and even return any unwanted goods to the store, leaving you without the hassle, but guaranteed to find garments that you love. Go from browsing online to chatting with us in real-time and enjoy your goods, with a personal shopping experience, faster than ever before.