For the gentleman traveling at home or abroad
"This collection is inspired by short getaways, be it work, leisure or perhaps a bit of both, which is how I live! Hence it has everything covered for those of us who prefer to travel light.
New additions to our perennial house styles include a linen Glen check 'Hollywood 'trouser without waistband, reversed pleat and dropped belt loops allowing for total comfort in any heat.
We also have a contemporary safari jacket which is the ultimate traveller's go to for slinging over an open neck shirt, polo shirt or even t-shirt.  Made in a natural, undyed linen hopsack with a hairline rust overcheck with four ergonomically conceived patch pockets, this piece only gets better with wear.
As always,  Huntsman ready to wear offering is designed so that every piece can work as a combination in an outfit and as a smart way to compliment ones bespoke wardrobe."
Huntsman's Creative Director - Campbell Carey
The arrival of spring motivates us once again to look outdoors for our leisure pursuits. Whether at home or abroad, our attentions turn to the ideals of a summer getaway. If you're looking toward a stolen weekend, or decamping to more tropical climates for the season, the spirit of travel is optimised in the design of the Ready To Wear collection.
It is the postcard perfect visas of the world's' most glamorous rivieras which is captured in this nuance of this collection. A collection designed to keep you looking your best, whatever the occasion, wherever in the world.
This season we have designed a classic flat front linen trousers, available in vibrant
green
,
camel
and
denim.
Perfect teamed with one of our linen sports coats or a classic hopsack blazer, which we continue from Autumn - Winter, but now in a
light grey
and mid blue for summer. The hopsack blazer is a fantastically versatile piece and as such should be regarded as a wardrobe staple, great for both work and play... Incredibly easy to wear; the two and two composition of the open weave makes this jacket both airy and comfortable.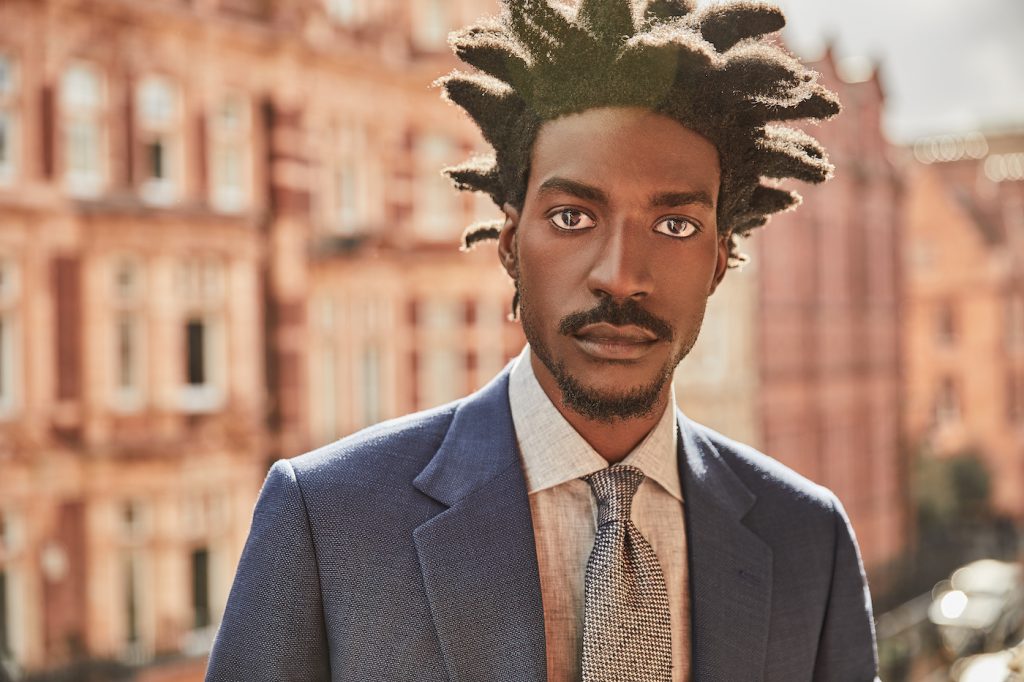 Ancient piazzas at dusk and the first light on the harbour at dawn have inspired the colour pallet of our blazers and trousers; tones of russet and cork in the
windowpane
check sport jacke
t
, which is cut to create a more casual silhouette.
This jacket is intended for those less than formal affairs, which become increasingly popular as the evenings get longer and temperatures permit, but when one may still need a blazer. In using thinner shoulder pads, lighter and less canvassing and a soft sleeve head, it gives the wearer an air of unconventional elegance and total comfort.
As well as flat front linen trousers, the collection also features a standout  
glen check Hollywood trouser
. Inspired by the golden age of Hollywood and leading men in exotic locations, one could almost imagine the likes of Clark Gable or Paul Newman sporting a pair whilst sipping cocktails at the poolside.
Wherever you're heading this summer, make sure you're properly attired with Huntsman. Check before you've closed your case that you've packed essentials like
sunglasses
and
cologne.
For summer, try pairing linen and light cottons with the lively full bodied citrus notes of our
Assam and Grapefruit
fragrance.
All of our Ready To Wear collection is also available as Bespoke orders. You can chat to us for styling advice, product information or questions about our bespoke services via our 
intercom
.