Huntsman Takes L.A.
Huntsman transplanted the spirit of Savile Row to Beverly Hills on Thursday, when the house threw a cocktail and dinner party at the handsome, modernist home of interior designer Michael Smith and Ambassador James Costos. The dinner celebrated Huntsman's long history of dressing the late actor Gregory Peck, a bona fide member of Hollywood royalty. Huntsman's chairman Pierre Lagrange co-hosted the event, together with the house's newly appointed CEO Philippe Brenninkmeijer, and Michael Smith. Gregory Peck's son Anthony Peck featured as the guest of honour and gave an emotional tribute to his legendary father. Lagrange notes that the idea to commemorate Huntsman's collaboration with Peck first came about after Los Angeles' LACMA  highlighted the duo's relationship in its "Reigning Men" exhibition, which runs until August 21. "This year is also the centenary of Gregory Peck's birth, and we thought the event was a nice way to way to pay homage to one of our most important clients," says Lagrange. "He is still today one of the most elegant actors that ever lived. What you see when you are looking at the wardrobe of Gregory Peck is his style is eternal – it doesn't age," he says.
Guests gathered in the lush gardens of Smith's home, where they viewed vintage pieces that Huntsman had made for Peck, all arrhttp://huntsman2.deepwebsites.comanged in a mahogany steamer trunk from the house's archives. Among the garments were a green velvet sports coat, along with a number of the house's single-button coats in Huntsman's signature tweed, and the grey "pick and pick" morning coat that Huntsman made for Peck to wear to Ascot in 1960.  Anthony Peck also unearthed his father's script from his legendary role in "To Kill a Mockingbird" to go on display, alongside the actor's Oscar for the role.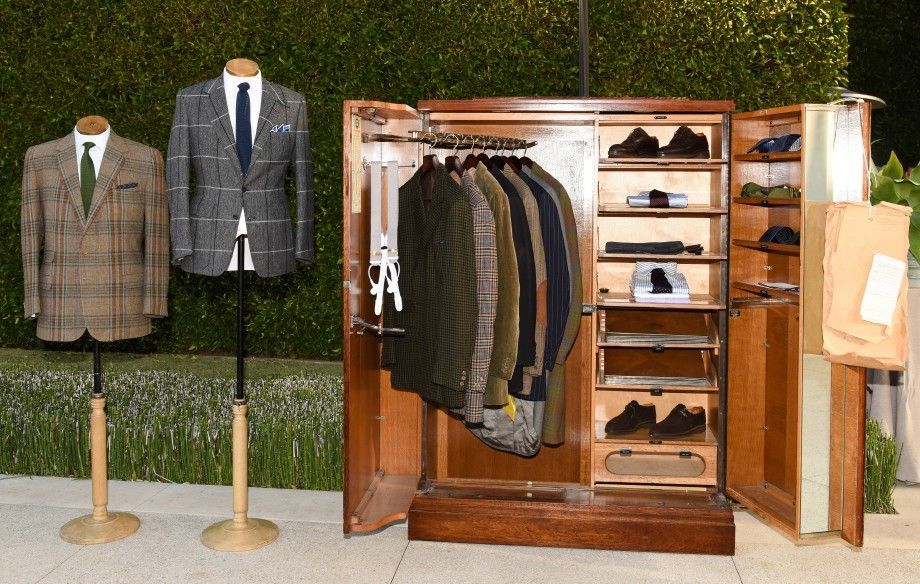 Plenty of film industry bold-facers turned out to celebrate Huntsman, among them Huntswomen Lauren Hutton, actors Mike Fisher and Keith Carradine, producer Sandy Climan and his two sons, Mike Medavoy and his philanthropist wife Irena, entrepreneurs Mark and Nancy Goldston, designer Monique L'Huillier and husband Tom Bugbee, director Matt Tyrnauer, producers Liz Goldwyn and Darren Starr, and Los Angeles Times style writer Adam Tschorn.  After sipping quintessentially English Pimm's in the house's grounds, guests sat down to a Brit-inspired dinner of Scottish smoked salmon and Wagyu skirt steak.
Anthony Peck speaks about Gregorys relationship with Huntsman Alongside bringing together Huntsman's already loyal clutch of Los Angeles customers, the party introduced some guests to the house for the first time. "Huntsman owes a lot to Hollywood," says Lagrange. "A lot of the actors that we see now as the most elegant have actually been Huntsman clients." Among that number are Hollywood legends Peck, Cary Grant, Paul Newman and Katherine Hepburn, through to Damian Lewis, David Oyelowo, Mike Fisher, and Mark Strong, today. "Having clothes made by Huntsman makes you part of a family of connoisseurs," says Lagrange.
Philippe Brenninkmeijer, Michael Smith, Pierre Lagrange, Anthony Peck The event comes ahead of the summer Huntsman trunk shows planned, visiting clients in San Francisco June 6th – 8th; Los Angeles June 9th – 10th; New York June 12th – 14th; Chicago June 19th – 20th; and New York again June 22nd – 24th. For more information, please contact
daisy.knatchbull@huntsmansavilerow.com
or
michael.anderson@huntsmansavilerow.com
Photo credit: Owen Kolasinski/BFA.com