Take a sartorial safari with Huntsman and discover our bespoke shirts with the latest window display at 11 Savile Row
---
The latest window installation at 11 Savile Row invites you to discover our bespoke shirting service- you might be surprised as to what you find!
As well as beautifully cut, classic business shirts,  Huntsman Head Shirt Cutter Sean O'Flynn and his team are well versed in making all kinds of shirts for every occasion. From safari shirts, overshirts shirt jackets, and even the occasional pair of pyjamas!
Inspired by the theme of travel and taking inspiration from those great explorer movies of the 1950s this window installation has a vintage feel, with a contemporary twist, with our mannequins modeling Huntsman bespoke garments in lightweight linens and cool, breathable cotton, in a colour palette of off-whites and neutrals. Perfect to combat the fatigue of the heat and humidity!
The window display features three styles of bespoke shirt for warm weather.
The Safari Style Shirt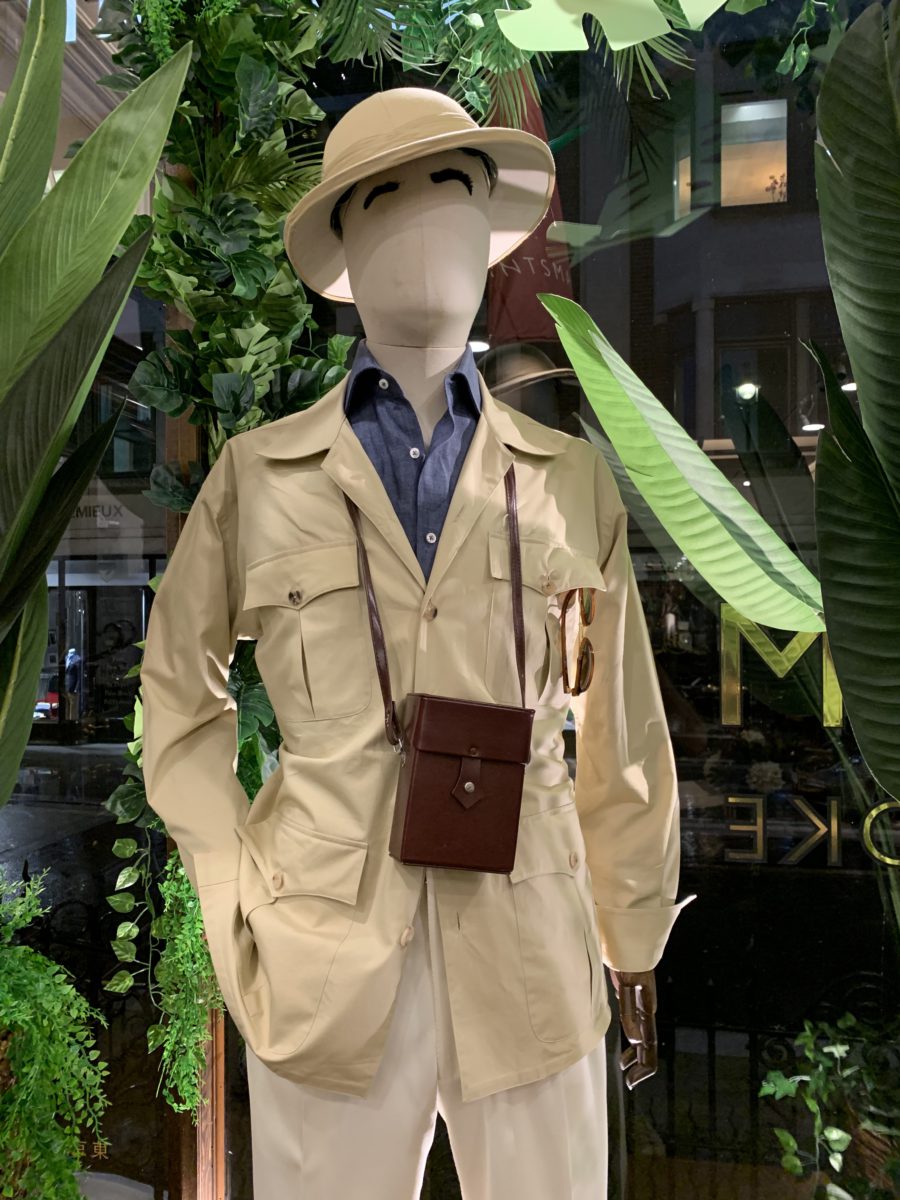 Cut longer in the body, with a generous spread collar, this style shirt is designed to be worn over a t-shirt or your regular shirt. Here we've paired our safari shirt with a denim-blue linen shirt and double-pleated cotton trousers.
The thoughtful style details set this shirt apart, notice the turned back cuff and the inverted pleat chest pockets, as well as the bellows pockets which really set this shirt apart.
The Classic Linen Shirt
You'll feel comfortable enough losing your jacket in a perfectly tailored classic linen shirt. For warm weather, a pristine white linen delave is sure to stay looking smart. Opt for a cutaway day collar so you can dress it up or down- tie optional! 
The Shirt Jacket
Slightly shorter in the body, the shirt jacket is cut in a heavy-weight cotton, so is a little more substantial. Cut slightly larger than your regular shirt, you can layer this with t-shirts, knitwear or undershirts.
Watch how we created the latest display
https://video214.com/play/w7iTytfhbbLJNow7eeYm3A/s/dark