The Huntsman Team
THE TAILORS
DAVID HAYES
Coat Maker
"Bespoke tailoring is an art that needs to be nurtured and taught to other tailors, as to preserve this craft for generations to come. It is an important step to keeping this art alive which I feel Huntsman has recognised and does so through their apprenticeships. Having had the opportunity to be an apprentice with Huntsman, one of the best tailoring houses in the world, it has taught me that tailoring can be very satisfying with the right guidance. It is demanding and requires a lot of training but worth it."
Meet David Hayes, Huntsman's new coat maker. He returns to Huntsman after having originally trained in 1998.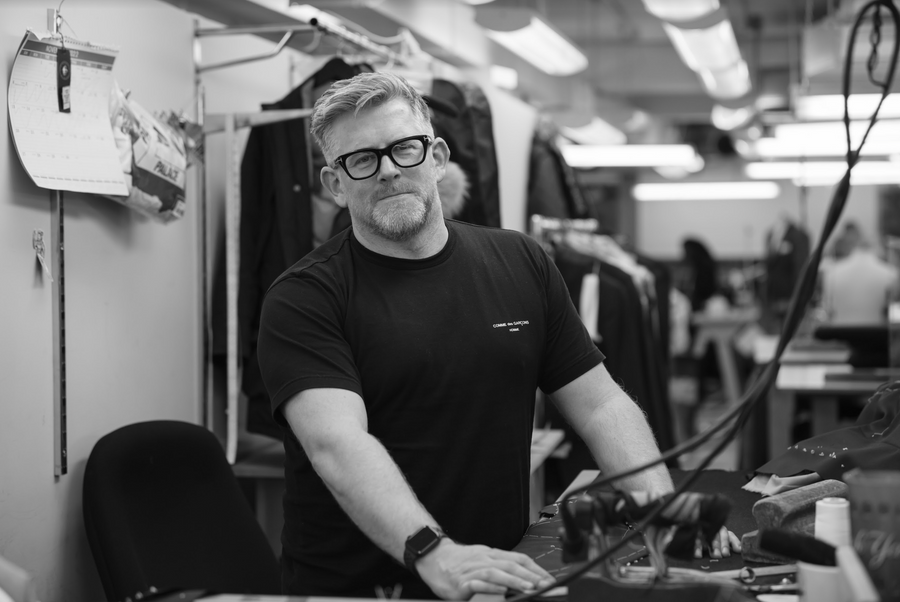 SHANE AIROLL
Head Trouser Maker
Shane has earned a reputation for being the best trouser maker on the Row. He appreciates another bespoke creation too: shoes. His collection is amazing, and he can tell the maker from a single glance.
DYAN J. PAEZ MOLINA
Trouser Maker
Dyan brings a passion for perfection to her work, learning the skills of the trade from the best trouser makers on the Row.
FRANCESCA LEE KERWIN
Trouser Maker
Vogue featured Francesca's tailored menswear collection when it was shown at Graduate Fashion Week in 2015. She has come to Huntsman to perfect her tailoring skills.
STEVE VENN
Coat Maker
Sven, as he's affectionately known, is the leader of the pack. He's a champion coat maker, with a wealth of experience in the trade.
JOANNA SPREADBURY
Apprentice Coat Maker
"It's vital to build a strong canvas, as this is what gives the garment its structure. If the canvas isn't created well from the beginning then the whole garment can be wrong. When you press the canvas, it holds its shape and lasts a very long time. It almost feels like you are forming a human into the cloth. That's how I imagine a garment that will fit the client perfectly."
Meet Joanna Spreadbury, the newest coat maker apprentice to David Hayes.