May: 2023
Welcome to the first quarterly Gazette of 2023!
In this issue, you'll find all of the latest from Huntsman 11 Savile Row, and at West 57th Street New York. We're excited to share the first Gazette of 2023 on our new website, which launched earlier this year. If you haven't already, take the opportunity to look around. You'll discover dynamic new ways to shop and check out, as well as our new bespoke video, which shows the eight steps we take to create the world's finest handcrafted clothes, exquisitely narrated by Sir Mark Rylance.
New ready-to-wear tailoring for your warm-weather wardrobe, plus our latest bespoke womenswear campaign means that we have you sartorially covered for the upcoming months.

Whether it's in a fitting room at 11 Savile Row, our home at W57th Street, or on the road, at one of our international trunk shows, we look forward to seeing you soon.
Coming Up...
Discover all of the latest events and activations from Huntsman, from street-wide events, to new collaborations, and Huntsman bespoke news from around the world!
Concours Returns To Savile Row

On the 23rd & 24th of May Concours will return to Savile Row for a second triumphant year. Once again, Huntsman is partnering with Bentley and Jack Barclay, this year to unveil the latest phase of our ongoing partnership.

Be sure to join us on the 24th & 25th of May, to discover some of the world's rarest and most luxurious vehicles, on London's iconic tailoring street.

From contemporary supercars to pre-war thoroughbreds, Savile Row Concours unites the titans of the luxury automotive industry, with the world's most prestigious bespoke tailors, for a celebration of craftsmanship and design.

See how Huntsman celebrated Concours last year, here.

The Huntsman Bentley

A new phase of the collaboration, following the success of the Bespoke Huntsman Bentley Bentayga in 2019, Huntsman is excited to announce a new collection in their ongoing partnership with Jack Barclay.

Working with Bentley Mulliner; the bespoke coachbuilding division of Bentley, two new bespoke vehicles are available exclusively through the Jack Barclay dealership.

Launching at Savile Row Concours on the 23rd Of May, these cars epitomise the very best of craftsmanship, engineering and the beauty of a bespoke lifestyle.
Huntsman & Heriot Watt University


In January of this year, Huntsman Head Cutter & Creative Director Campbell Carey returned to his roots.


Huntsman partnered with Heriot-Watt University and Huddersfield Fine Worsteds in a tweed design project that saw Campbell return to the college of which he was a student some 25 years ago.

Third Year students studying for a Design for Textiles degree were tasked with creating an original cloth collection. The winning design will be produced in a full 60-metre length, from which Huntsman will create the winner a bespoke garment.

Now we're very excited to announce the winning student. Lois Cowie, 22, from Buckie in Morayshire in the north-east of Scotland, found inspiration from the sandstone tenements of Glasgow. Before weaving samples of cloth on the school's looms, she built the design virtually using computer modelling software for weavers that was invented in the Borders.

"What's particularly remarkable is that the students have really only had two years to learn and get up to speed with weaving, which isn't easy, as it's a very time-consuming process. But we could really see the hard work and passion of the students coming through." 


- Campbell Carey

Introducing The Coronation Tweed

This year, the legendary Huntsman Tweed Competition returned for 2023 with royal objective.

To commemorate the coronation of King Charles III, Huntsman invited you to design a tweed fit for royalty, in a competition to find Huntsman's official Coronation Tweed.

Applicants could download one of Huntsman's exclusive templates, unleash their creativity, and submit their masterpieces by tagging #huntsmantweed2023 on social media.

The winning entry will be transformed into a full bolt of cloth, from which the winner will receive their own bespoke experience, and the tweed will be available by commission, to Huntsman clients.

We had designs flooding in from around the world, and this year the competition was tougher than ever, but we're glad to announce our winner!

Ben Harries grabbed our judges' attention, with his careful, subtle use of colour. The resulting tweed looks deceptively simple, but when studied, you'll see more than five separate colours culminate to create this striking design.

Keep following us for more updates on the Coronation Tweed, as it goes from concept to creation, and check back in later in the year, when it is available for bespoke commission!
Events At The Huntsman Club
See what's been happening in the clubroom at 11 Savile Row
A Dinner Celebration of Royal Ascot

Earlier this year we hosted a Royal Ascot dinner at the Huntsman Club. Our guests were treated to a four-course meal by

The Ledbury

and exquisite wine and champaign pairings by

Billcarte Salmon

. 

The evening proved the perfect opportunity to showcase the latest morningwear designs from Campbell Carey, including a new cashmere-stripe and houndstooth trouser, as well as beautiful examples of classic morning coats, and grey three piece morning suit.  

Of course, no evening in the Huntsman Club would be complete without a whiskey tasting; artfully executed by Johnathon Driver of William Grant. 

Then British Fashion Council Breakfast

We were delighted to host the British Fashion Council as chair of our Huntswoman Press Breakfast in February.

B.F.C. C.E.O Caroline Rush was joined by Huntsman Head Ladieswear Cutter Magdalena Handwerker, fashion journalist and creative director Susan Bender Whitfield and founder of Ethical Era, Florence Kollie Raja for a panel focused on sustainability in luxury womenswear and featured a model presentation of the Huntswoman Of Tomorrow collection.

Caroline Rush, and each of our panellists wore a different iteration of the signature jacket, further demonstrating how versatile and uniquely different each look is. You can learn more about this project and see the entire collection here. 

The Tweed Luncheon: Fit For A King!

This year, to celebrate the coronation of His Majesty King Charles III and commemorate this momentous occasion we invited you to design a cloth fit for royalty, in a very special edition of the Huntsman Tweed Competition.

The winning tweed design will be produced as a Huntsman exclusive 60 metre bolt, from which the winner will have a bespoke jacket created. The remaining cloth will become one of Huntsman's signature 'Coronation Tweed', available only to Huntsman clients.

Having received designs from around the world, and following a public vote, the final decision was left to Huntsman's Campbell Carey and an esteemed panel of judges.

Over an informal luncheon, Campbell was joined by Nick Foulkes, Catherine Haywood, Emily Carter and Taj Phull to choose our esteemed winner. Read More about this years competition here.
New Launches!
Our latest campaigns and collections for bespoke and ready-to-wear.
Introducing Sping-Summer 2023

Our new ready-to-wear collection launches with two new signature suits, and easy-to-wear styles of summer shirting.
In designing the new collection for spring-summer 2023 Huntsman Head Cutter and Creative Director had his sights firmly set on the art of dressing for those great summer events, soireees and weddings. Because finding the perfect suit for such occasions is often difficult, Campbell focused his attention on the cut, cloth and construction. The result, is two distinct suits, both equally suited to those memorable moments.
The suits make up part of a comprehensive collection of jackets, trousers and exquisitely lightweight linen shirts, this season in a new collarless style. Cut in our classic shirting block, in punchy red or blue stripes- these new style shirts are the epitome of luxury leisurewear. 
Huntsman Bespoke Ladies
"Bespoke tailoring is all about empowerment. In design, it defines the modern Huntswoman; she's elegant, she's resourceful, she's creative and she's timeless. This is not only a testament to the almighty power of bespoke tailoring but also an inspiration to all female clients; this is how you can make your wardrobe work for you."

- Magdalena Handwerker, Head Ladieswear Cutter.
Discover The Campaign
The Huntswoman Window Takeover

Did you spot our female-focused window rebrand?

To celebrate the launch of our latest bespoke ladies campaign, the window at 11 Savile Row went through a mini-transformation.


Our signature gold-foil lettering, unchanged for decades was switched overnight and "HUNTSWOMAN" had more than a few passers-by stop to do a double take.

Of course, as those in the know will tell you, Huntsman has been creating bespoke garments for ladies, since 1849, and our legacy of extraordinary women's tailoring is every bit as integral to our business, as its male counterparts.

Now, for May at least, it is given its rightful namesake in our window display.





Huntswoman: Spring '23

For Spring & Summer: A new take on the most versatile bespoke jacket you'll ever own.

Following the launch of the Huntswoman Of Tomorrow collection last year, we present a new take on that iconic, transformative tailoring, in sumptuous silk for spring and summer.

With new ideas for accessories, you'll find that this collection is perfect for those all-important soirees, a great take on contemporary wedding attire, and even events like Royal Ascot.

The Huntswoman Of Tomorrow collection is the ultimate luxury, sustainable wardrobe solution; a signature jacket with easily interchangeable modular elements, to evolve your outfit as the event dictates.

Discover the new campaign for The Huntswoman Of Tomorrow Spring '23 here.



Who Wore Huntsman?
We have the pleasure of dressing some of the world's most sartorially discerning ladies and gentlemen. See who's been wearing Huntsman from our Hall Of Fame.
This season it's been all about formalwear. Beautiful and unique bespoke tailoring for when the occasion dictates glamour and attention to detail.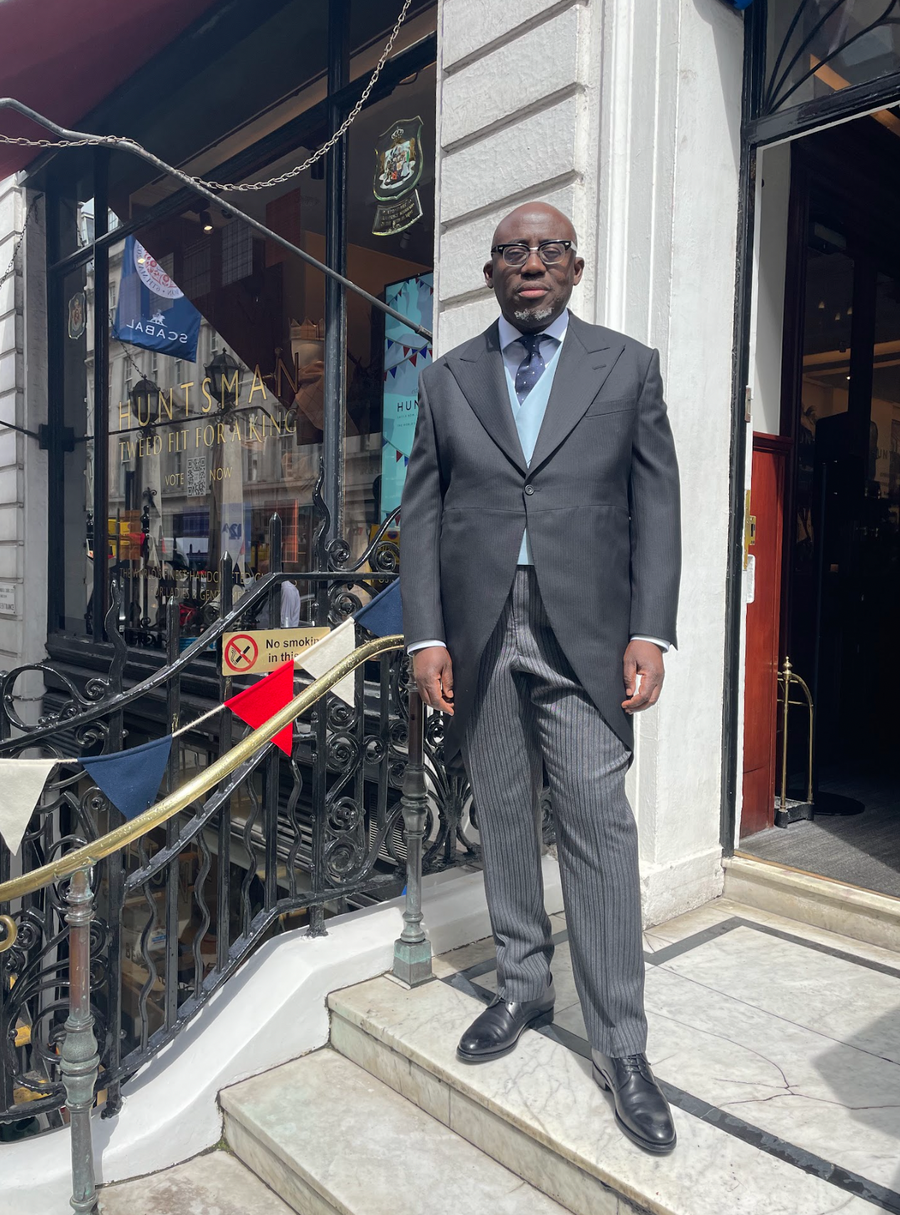 Edward Enninful for The Coronation Of King Charles III
Imelda Staunton for The Crown Premiere
Marc Jacobs for The Met Gala
David Harewood for The Evening Standard Awards
Huntsman's own Campbell Carey was spotted on the slopes wearing a full tweed ski suit!
Harry Pinero for The MOBO Awards
Henry Cavill for Avatar: The Way Of Water premiere
Huntsman On W57th
All the news and upcoming dates from our home away from home, across the pond!
Upcoming U.S.Trunk Shows

Ed and the team are on the road again.

From June 5th, Huntsman will once again be visiting major cities, coast to coast, across America.

To enjoy the world's finest handcrafted clothes, in the comfort and convience of your city, email ed.turco@huntsmansavilerow.com. Discover locations, dates and appointments below.

See The Schedule

Alan Cumming Stops By

For his first Huntsman commission, a favourite tweed.

The Peck '62 was an instant fit when legendary Scottish actor Alan Cumming visited the team at W.57th.

As a proud Scot, Alan, who is having his first bespoke commission with Huntsman was instantly drawn to the iconic house cloth.

Pictured at his first fitting, with Huntsman Cutter Finn Munkenbeck, his smile is a testament to his experience with Huntsman!

Huntsman x Faust

A special trunk show event...

As part of our upcoming trunk shows, The Huntsman W57TH team will be visiting Napa for a special Trunk Show event on the 14th - 15th of July, with more information to follow soon...