---
Thoughtful Gifts For Everybody
---
This Christmas our window at 11 Savile Row is all about giving to those you love this season. With a sled laden with thoughtful gifts from Huntsman, our intrepid figures battle their way through the snow, with enough presents for everybody. And whilst many of us face a Christmas without being able to see our family and loved ones, whether you're able to head home for the holidays or not, make sure you show how much you care by sending something special. 
https://www.youtube.com/watch?v=OTwAMxg092c
Leading the parade is a mannequin wearing a bespoke ski-suit. Made from our house peck tweed, the separate skin jacket and salopettes are sure to cut a dash on the piste, with velcro straps to ensure comfort and ease of wear with your ski boots, and buttons for our house box cloth burgundy braces. Paired with a Huntsman bespoke cashmere rollneck jumper and burnt orange Kishorn cashmere scarf, ensuring you look chic on and off the slopes. Tucked inside his pocket, a Huntsman tweed hipflask, to keep the chill at bay!
Next, dressing the tree, is a mannequin dressed for the season, having swapped the trousers from his black peak lapel evening suit, in favor of bespoke tartan trews, teamed with a classic black silk bowtie.
And finally, carrying the last of the gifts, a mannequin sporting the sumptuously soft 5 point star cashmere cardigan jacket, with matching baker boy hat, just visible above his stack of presents.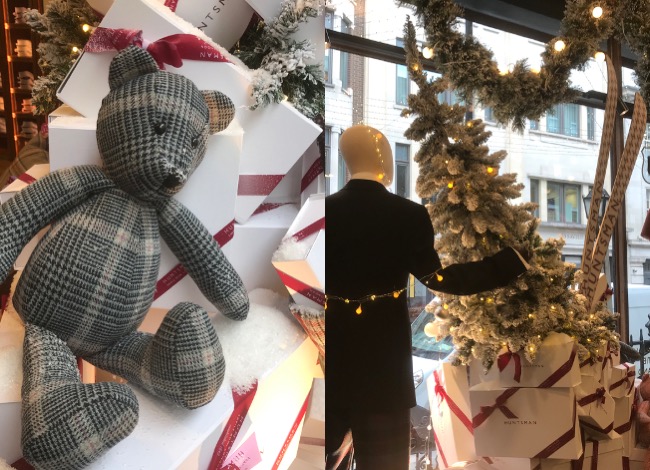 Finally, the sled itself, stacked high with presents, including some bespoke Huntsman skis, available to order by request, features with prominence the latest edition to the Huntsman family- Huntsman Bears. Available in two exquisite cashmere and 3 iconic tweed designs, these bears are a beautiful gift for children and adults alike. For a Christmas when we're less able to travel in person, why not send the gift of a hug, with a Huntsman bear?
For all of your gifting needs this year, visit our Gift Guide, which has thoughtful offerings for everybody, for every budget, and whilst you're shopping, don't forget your own list. Add your favourite Huntsman products to your wishlist by hitting the heart button next to products- you can share your wishlist with friends and family by sending as helpful Hint From Huntsman, and we'll credit them £250 for their first online purchase of over £500!